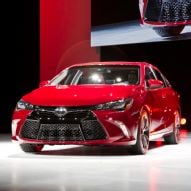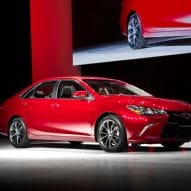 The 2015 Toyota Camry at Eddy's Toyota is roomier, quieter and sportier than ever. Toyota hit the ground running with a whole new look and close to 2,000 new parts and features. The Camry, known for being America's Top Seller, got a facelift in 2015 with a sleeker body style, added safety features and new trim levels.
Some things you may notice instantly about the 2015 Toyota Camry are the new sleek design and grill. Toyota replaced almost every body panel for the 2015 model as well as new LED daytime running lamps and availability for full LED headlights. The grill is an eye-catching trapezoid shape that makes the vehicle look larger than life. The Camry was also widened two inches for comfort and design appeal. Match that with 18 inch unique wheels and this car is sure to turn heads!
Inside, passengers can appreciate a new dashboard, new and improved interior color options and the latest technology. Calling all smartphone users (so everyone), the 2015 Toyota Camry at Eddy's Toyota has an optional wireless charging system right in the enclosed storage bin in front of the shifter. No more searching for cords! Combine that feature with the 4.2 inch color screen, navigation, Bluetooth hands free phone capabilities and advanced voice recognition and you will be ready to go every time you set foot in your car.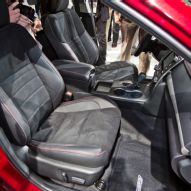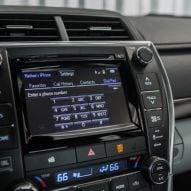 Safety is another huge focus of the 2015 Toyota Camry. Like in past year models, The Camry comes standard with the Star Safety System and ten airbags but the 2015 model has taken its passenger's well-being to another level. The new options include automatic headlights, cross-traffic alert system, departure warnings, adaptive cruise control and pre-collision alerts. In other words, when you've had a long stressful day and the kids are fighting in the backseat, you have a partner in crime looking out for you when you need it most.
Come into Eddy's Toyota today to check out all the new 2015 Toyota!
Source: Photos from Motor Trend