Did you know that we service ALL makes and models? That's right! Even if you don't own a Toyota (don't worry, we are a no judgement zone here), our service department will take great care of you and your vehicle! Our friendly service advisers are among the best in the business and are eager to provide the expert care that you deserve. Plus, you don't even have to buy here to service here. So, what are you waiting for? Here's why we have the best service department in town.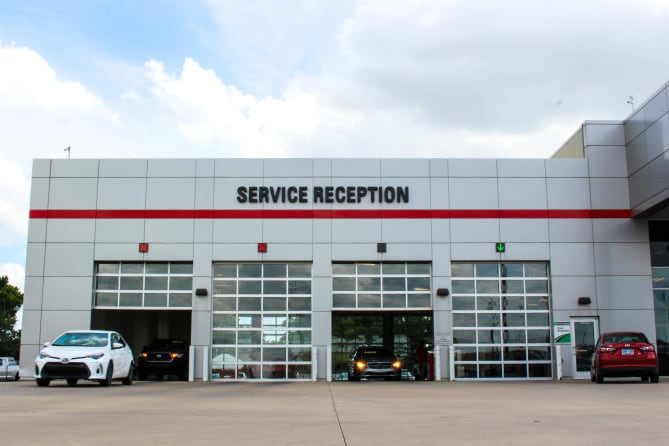 FREE Alignment Check ($50 Value)
You heard us right! Every time you bring your vehicle in for service, we provide complimentary alignment checks. It's a $50 value that you are getting for FREE. For the best alignment check in Wichita, KS be sure to think Eddy's Toyota!
FREE Wash and Vacuum ($10 Value)
We guarantee that you will receive your vehicle back cleaner than when you left it, inside and out! We take pride in cleaning our customers' vehicles and are more than happy to give your vehicle a clean look while helping you save time and money. Visit our service department today for a complimentary car wash and vacuum in Wichita, KS.
FREE Battery Check ($15 Value)
Your safety is our number one priority. If we can help prevent you and your loved ones from getting stranded on a road trip due to a poor battery, then you better believe we will give you a free battery check every time you service with us in Wichita, KS.
Complimentary Refreshments
You're probably wondering why this isn't listed as the first service perk because honestly, who doesn't love free treats and taking it easy? Take a load off and enjoy our complimentary Wi-Fi and television while snacking on the best cookies, popcorn, cappuccino and coffee at no charge. We even have a children's play room for your little ones to enjoy; making parenting a little easier.
FREE Video Inspection
One of our most recent service additions is our free video inspection that we offer to all of our customers. Even if you bring in your vehicle and decide not to service with us, you will still receive a free video on all of the recommendations our master technicians suggest. How does it work? You provide your phone number to our service adviser and you will shortly receive a video text of our technician explaining everything they see under your hood. What's the catch? There isn't one! We will not move forward with any suggestions until you give us the green light (and that can be done by texting back, calling us, or talking with us in person).
Schedule Your Next Service Appointment Today
Our service department is the best in town and we're proud to offer the best deals and service to our customers in Wichita, KS. From offering free alignment checks and battery checks to providing complimentary refreshments and car washes, we are here to help with your vehicle maintenance and repair needs. Even if you have a question about our services, please don't hesitate to give us a call at (316) 652-2222. We take your best interest at heart and look forward to serving you. Visit our service department today to learn more about our complimentary services and service specials. If you're ready to schedule your next appointment, you can do so on our website at your convenience.