On Thursday, January 2nd from 12pm-6pm, we'll roll up our sleeves and help save lives! We have proudly partnered with The American Red CrossOpens in New Window to hold what we expect to be the third of many blood drives at our dealership! The Red Cross has over 130 years of experience providing humanitarian aid - including more than 70 years of supplying blood to those in need.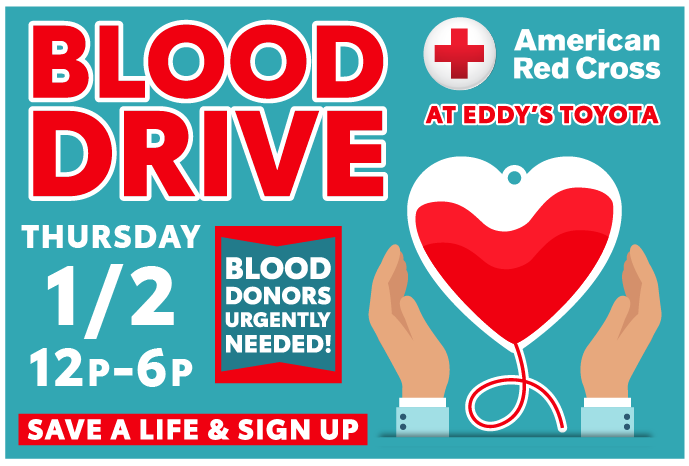 Each pint of blood we collect can help save up to three lives and will touch the lives of so many more. What a great way to pay it forward and make an impact on people in our community and across the country. We are very excited about the drive at Eddy's Toyota of Wichita and we hope you are too! If you need some extra encouragement, please see below on additional reasons why you should give blood.

Juice and cookies will be provided!

It's easy and convenient. You can expect it to take only an hour and you can choose what time you want to donate by

scheduling an appointment today.

It's something you can spare. There's no enough blood to go around, but most people have blood to donate.

It doesn't cost anything. Blood is something that money can't buy and it's only something that one person can give another.

You will save lives. You may give someone another chance at life by your generous donation. It's the right thing to do and you will feel good about it once you've done it!
There are many ways you can help, but most importantly we hope you come out to donate and fill the missing types. Walk-in's are welcome or you may schedule an appointment now for our blood drive!Opens in New Window Don't forget that you can also use Rapid PassOpens in New Window on the day of your appointment.

It's not every day that we do something that has such a lifesaving impact. Let's start 2020 out right and blow this out of the water! We'll be looking forward to seeing you at the blood drive at our dealership. If you have any questions about our upcoming Blood Drive, please don't hesitate to give us a call at Phone Number(316) 652-2222. If you are not sure if you're eligible to donate, show up to find out! Even if you can't donate, The American Red Cross would love to have you as a volunteer at the drive.