Thank you for reading this week's newsletter, issue 15th! We hope everyone had a fun and safe Halloween! Now that November is here, please don't forget to sign up for our Blood Drive taking place on November 7th! We have time slots from 12pm to 6pm and would greatly appreciate your support! We hope you have a great weekend and that you enjoy one or more of the below Wichita happenings!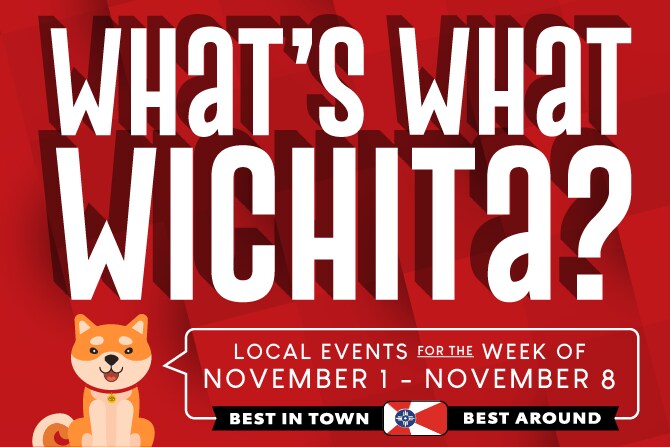 Events this Weekend
Don't miss The Marcus King Band at the Orpheum Theatre on Friday, November 2nd! If you enjoy southern rock and blues, then this is the concert for you. This is their El Dorado Tour and doors open at 7pm. Tickets are still available for purchase if you want to grab yours today!
Come out to the Wichita Ice Center on November 1st from 12pm-3pm for public skating! The rink is open for skaters of all ages and levels. Admission is $7 per person, but that does include skate rental! Make a day of it and bring the whole family.
Stop by the Wichita Boathouse to get a free t-shirt at the First Friday Party! The Wichita Baseball 2020 is giving away free t-shirts on November 1st to the first 100 people in celebration of the new Wichita Baseball Stadium coming this Spring. Start your weekend out right with some free swag!
From November 1st through November 2nd, enjoy the Mistletoe Market at Century II! Enjoy a fun and fabulous shopping experience where you can find a blend of handcrafted items, home décor, modern trends, sparkly jewels, and a whole lot more! Admission is only $5 per person so come by and check it out!
Cattle Baron's Ball of Wichita
Visit the Hyatt on November 2nd at 5pm for the American Cancer Society's Cattle Baron's Ball! Since 1990, this has been a proud Wichita tradition. The western themed event will feature dinner, open bars, live entertainment, and more! All funds raised at the event will benefit cancer research and local programs for cancer patients.
Don't miss Peppa Pig's Adventure at the Orpheum on November 2nd at 4pm! If your children love this program, then they will absolutely enjoy this action-packed live show featuring all of your favorite characters as life size puppets. There's still time to purchase your ticket if you haven't already!
Watermark Books & Café invites you to meet Cherryl Clark on November 2nd at 2pm! Enjoy her free book signing of Hope for the Heart. She's a local author and will be available from 2pm-3pm for questions and discussion. Be sure to RSVP today!
Who doesn't love The Beach Boys? You can see them in concert on Saturday, November 2nd at 7pm! They will be performing at Intrust Bank Arena where you can still purchase your ticket to watch this incredible classic and rock & roll group!
Kansas Orchid Society Annual Fall Show
Come out Botanica on November 2nd and 3rd for the Kansas Orchid Society Annual Fall Show! Enjoy free exhibits of all varieties of orchids as judging takes place for awards, ribbons, and trophies. Members from this society will be on-site to answer questions and to offer orchid related items.
Meet at the Sedgwick County Park at the Sunflower building on November 3rd for the Who Let the Dogs Out 5K AND the Tail Waggers 1 Mile Fun Run! This is the 4th annual event to support Spay Neuter Kansas and you're invited to participate! You may bring your pup to race, but it's not required. Come out and race on Sunday!
What Do You Think?
We hope you find something fun to do for the whole family to enjoy! There are a lot of fun events taking place this weekend and we don't want you to miss out. If you would like to share your feedback with us or would like to see something new on our blog, please feel free to contact us at (316) 652-2222. Our team at Eddy's Toyota wishes you a fun and safe weekend!