Welcome to this week's newsletter, issue 14th! We hope you find our newsletter fun and informative as you find your next weekend activity! Our team found a lot of festive events taking place this weekend and we don't want you to miss out! Don't forget that we are also having our Trunk or Treat event on Wednesday, October 30th from 5:30pm-7pm. We'll have a great deal of cars decorated along with candy and games for the whole family to enjoy.
​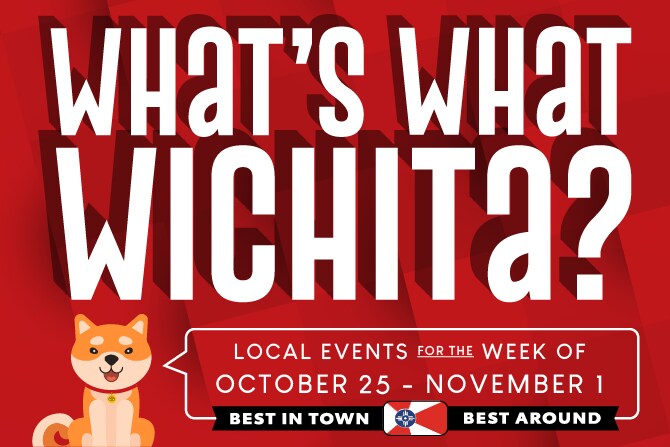 Please see below on our favorite Wichita happenings this weekend! If you want to learn more about each event, be sure to click on the title of each activity.
Events this Weekend
39th Annual Wichita Asian Festival
Century II is inviting everyone out to the 39th Annual Wichita Asian Festival on October 26th from 5pm-9:30pm! This festival is proudly presented by the Wichita Asian Association. Admission is FREE, but be prepared to bring cash as there will be over 40 local Asian vendors to purchase food and crafts from!
Don't miss this year's Halloween Bar Crawl on Saturday, October 26th starting at 4pm! The crawl will feature a $1,000 costume contest and complimentary drinks! Each bar will have something festive to offer and remember to be respectful and have fun!
Chick-Fil-A is hosting a free Family Fall Festival on October 26th from 2pm-4pm at their Maple and Ridge location! Be sure to come out and have some fun! The event will feature a petting zoo, pumpkin painting, balloon twisting, a bounce house, and so much more!
Come out and support talented Shockers on Saturday, October 26th at 7pm! Songfest is an annual dance and lip sync competition that takes place during Shocktoberfest Week. This event is open to the public and tickets are $10 per person. Come out to the Orpheum Theatre and sing along to some great acts!
Who is ready to see Miranda Lambert in concert on Saturday, October 26th at 7pm? She will be performing at Intrust Bank Arena and there are tickets still available! Starting at $38.75, you can see two-time GRAMMY Award-winner put on a wonderful show!
The Rocky Horror Show is back at the Crown Uptown Theatre! Come out and enjoy this live theatrical experience (with a huge twist) on Saturday, October 26th at 8pm! Tickets are still available and doors will open at 7pm. Don't forget that you must be 14 years of age or older to attend.

Wichita Flea Market
Enjoy the Wichita Flea Market this weekend at the Kansas Star Casino! There will be all types of vendors where you can find new and vintage items available for purchase. There will also be something for all ages to enjoy as the flea market will have a Kids Zone and an Adult Zone. Make sure to buy your ticket today!
Come out and enjoy the Hay, Hooves & Halloween event on October 26th-27th at the Old Cowtown Museum! Admission is $5 per person and you may come out anytime between 2pm-8pm. You can expect a lot of candy and seeing the Headless Horseman ride the streets!
This is the last weekend the Mr. Gourdman's Pumpkin Patch will be open! Come out and enjoy fun activities such as a playground, fishing, hayrack rides, a corn maze, face painting, pumpkin picking, and so much more! Admission is $7 per person. The pumpkin patch is open from 10am-6pm.
Has running a marathon been on your bucket list? How about running one this weekend? Come out on Sunday, October 27th at 1:30pm for a 1 mile untimed run/walk or enjoy the 5K run/walk at 2pm. The races will be held at the Sedgwick County Park and will benefit Lexi's LAMB Foundation.
What Do You Think?
We hope you find something fun to do this weekend with your friends and family! As always, we welcome your feedback and would love to hear from you! You may contact us on our website or simply give us a ring at (316) 652-2222. If you're looking for ways to give back to the community, we are hosting a blood drive on November 7th at our dealership! We hope you're able to come out and donate as the American Red Cross is always looking for donors. Again, our team at Eddy's Toyota wishes you a fun and safe weekend!