Thank you for reading this week's newsletter, issue 39! Our team has compiled a fun list of activities for you and your family to enjoy from home. We know times are tough right now, but we hope these virtual activities bring some joy to your day! Who knows, maybe you can find a new hobby! Stay safe and we'll see you next weekend!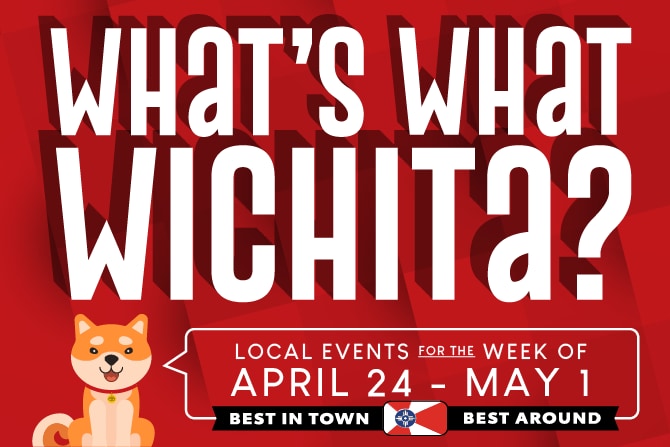 Things To Do This Weekend
21st & Ridge Farmers Market
Kansas Grown is celebrating 30 years this year! Come out to the 21st & Ridge Farmers' Market this Saturday, April 25th from 7am-12pm. Enjoy ultra-fresh vegetables, meat, farm fresh eggs, baked goods, plants, and a whole lot more! There are some vendors that are selling their products online as well! Be sure to visit their Facebook page for details.
Virtual Connect and Preserve Penguin Day
Join Tanganyika Wildlife Park for their first ever Connect and Preserve Day! They will be celebrating African penguins and raising funds for the Dyer Island Trust and the Tanganyika Winter Fund. Feel free to tune in on their Facebook page on Saturday, April 25th! They have a list of scheduled times for different activities for you to view.
Little Aviators Visual Story Time
During quarantine, the Kansas Aviation Museum will be posting stories read by their Director of Education on their website. They will also have fun activities to go with the stories for Little Aviators. Be sure to check their website every Friday from 10:30am to 12:30pm for a new story!
It's Pay It Forward Time
This Saturday from 2pm to 4pm, enjoy free funnel cakes from Urban Skillet! They are wanting to pay it forward and want to share it with you! Come out to the Wichita WaterWalk where they will have a drive thru set up so you can pick up your free funnel cake from the comfort of your own car. Be sure to enter off of Wichita St. heading east through Waterwalk PI for pickup and exiting onto Water St.
Facebook Live: Chalk Paint Demo
Would you like to learn more about chalk paint? If you have used it before or haven't tried it yet but want to, then this is the video for you! Anne Sloan with Mrs. O'Leary's Art will be hosting a Facebook Live watch party and will be performing a Chalk Paint Demo. The demo will begin at 1pm this Saturday where Anne will be available to chat with anyone who has questions.
Music Together Online Class
Looking for something to do while staying at home? Riverside Music Together is hosting a Music Together Online class in their Zoom Music Room! Everyone is welcome to enjoy their music-making community. It's a fun, engaging, and educational activity for the whole family to enjoy! Be sure to tune in on Saturday, April 25th from 9:30am-10am.
Virtual Happy Hour With Jon Langston
102.1 The Bull is hosting a virtual happy hour and meet & greet with Jon Langston on Friday, April 24th at 4pm! It will be a great opportunity to kick back and relax while tuning in on Zoom with your favorite beverage. Be sure to tune in! They hope to see you there!
Books & Breakfast To Go
Books & Breakfast ICT will be providing free breakfast this Saturday, April 25th from 10am-11:30am at St. Paul AME. They are wanting to help the community meet the food disparity needs and hope you will spread the word! This will be pickup only from your vehicle and breakfast will be on a first come first serve basis.
Free Meals For Displaced Food Service Workers
Family Church is partnering with The Bomb BBQ to donate 200 meals to displaced food service workers on Sunday, April 26th from 11am-2pm. The food truck will be parked in the Family Church parking lot and you will just need to pull up to receive your meal. If you would like to pay it forward, be sure to donate on the Go Fund Me page on their Facebook page.
Wichita Oasis Virtual Game Night
Wichita Oasis is hosting a virtual game night on Friday, April 24th from 7pm-10pm! They will be playing Remote Insensitivity, which is a card game similar to Cards Against Humanity. Be sure to tune in! All you need is a device with a web browser! Their Zoom meeting details can be found on their Facebook page.
Ask A Chef Session
Tune in on Friday, April 24th from 2pm-3pm to ask an expert on creative ideas in the kitchen! Friends That Cook are going live with their Rock Star Chef's in preparing a few simple dishes you can recreate at home! Check them out live on their Facebook page every Friday at 2pm.
What Do You Think?
And that's a wrap, Wichita! We hope you find one or more of the above activities fun and enjoyable this weekend! We know it's not always easy staying at home, so we hope this newsletter will help you pass the time while having fun! Don't forget to stay safe and healthy this weekend. We are also open and available for your automotive needs. You can
contact us through our website
or by giving us a call at
(316) 652-2222
if you need a new vehicle or your current one repaired.