Hello
Wichita!
We're excited for this
week's newsletter, issue 36!
W
e found 10 online activities for you and your family to enjoy. You don't even have to leave your house! They are all virtual and
we hope they spread positivity and keep you busy during the stay at home mandate. Stay safe and
we'll see you next weekend!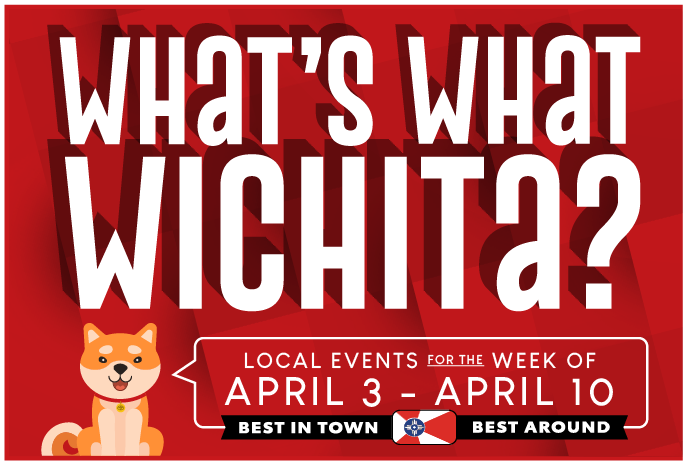 ?
10 Virtual Events To Do This
Weekend

Virtual Farmers' Market
Did you kno
w that
Wave is hosting a virtual Farmers' Market for local farmers, producers, and service industry employees?
We couldn't help but highlight their efforts in ensuring our local community stays stocked
with amazing fresh foods during this crisis. Be sure to visit the Funky Fresh Market today and order your needed products. Pickup and delivery options are available.
We Got This Challenge 2020
Local Mom Alexis Phillips has created the "
We Got This Challenge 2020" to help spread kindness, cheer, and positivity in a fun way. The goal of this challenge is to encourage our community to stay home and to ensure our neighbors that "
W
e got this!" The campaign is based off one simple principle and that's
we are in this together. Visit their blog today to see ho
w you can participate.

Love of Character's Easter Baskets
Easter is right around the corner! If you're still needing to prepare Easter baskets for your kids, then Love of Character has you covered! They have a
wide array of stuffed animals, je
welry, and crafts for you to choose from - plus more! Visit their
website today for all of your Easter basket needs. They can deliver your purchase straight to your door.

Virtual Retreat: Staying Connected & Empo
wered During Quarantine
For the safety of our peers,
we are instructed to distance ourselves from one another, but that doesn't mean
we can't stay connected. Join some incredible
women for a nation-
wide, virtual retreat to help us all stay connected and empo
wered during quarantine on April 4th. Guest speakers include a humanitarian, spiritual coach, a natural foods chef, and more.

Virtual Visits on SCZ Live
Let the Sedg
w
ick County Zoo come to you! Right in the comfort of your home, learn about animals daily as zoo keepers give you a behind the scenes tour. They host their live tours everyday on Facebook at 11am during weekdays. It's a great opportunity to chat
with keepers and enjoy up and close encounters
with your favorite animal.
Virtual Brunch
Learn from industry experts in the comfort of your home during this virtual brunch! Fix up your favorite meal and net
work
with amazing
women
on Sunday, April 5th from 12pm-3pm. Speakers include a certified life coach & vlogger, interior designer & lifestyle blogger, human resources expert & business strategist, and more!

Harry Potter Trivia: STREAMED
Attention Harry Potter fans! This trivia event has your name
written all over it. For only $5.50, enjoy amazing trivia from 7:30pm-9pm on April 4th. Be prepared and have your food delivered because once the trivia starts you
won't
want to leave your couch! All you need is a computer, laptop, or tablet and a phone for each player. Tickets are still available if you
would like to purchase yours today.
Zoom Group Video Chat
With Characters
Are you ready to meet your favorite characters including Spider Man, the Hulk, Ollie, an American hero, and more? If you have kids bored at home, then this Zoom Group Video Chat is for you! This is a free event, but you must have a Zoom account. The chat takes place on Saturday, April 4th from 11am to 11:30am EDT.
Virtual Open House Tour
Are you in the market for a home? Or know someone that is? Be sure to check out this virtual Open House Tour this Sunday from 2:30pm-4pm on Facebook! The tour is hosted by JP
W
eigand & Sons and will be touring four homes!
Virtual YMCA
Are you missing the gym? Don't worry because the YMCA currently has virtual boot camps for you to do in the comfort of your own home! They have the best group fitness classes on the go and resources for kids to learn and grow during this time. Be sure to check out their website today to learn more about their online classes and instructors.
W

hat Do You Think?
We
hope you enjoy one or more of the above activities!
We
know this isn't the same as getting out, but we hope this will keep your spirits up and entertained until the stay at home ban has been lifted. Please know that our dealership is also still open and our team is here to help you with anything you need, including non-automotive needs. Give us a call at
(316) 652-2222
to chat or leave your feedback by
contacting us through our website.