Do you know a remarkable woman in your life? We, at Eddy's Toyota of Wichita, chose to partner with KSN to recognize women that are going above and beyond in our community. We held a contest and asked the public to submit their nominations on who they think deserves to be recognized for their great contributions and for their influence they had on public policy, social progress, and quality of life. After narrowing it down to 4 inspiring women, Julie Dombo was selected as the winner.
After you hear Julie's amazing story, you won't be surprised as why she was chosen as the winner of our Remarkable Women's contest. She not only survived a shooting at a local store after confronting a robber, and then losing her limbs as a result from her injury; but she also beat breast cancer 2 years later. Julie has beaten the odds three different times and now lives everyday as a motivator; making it her mission to share her survival story with people across the world.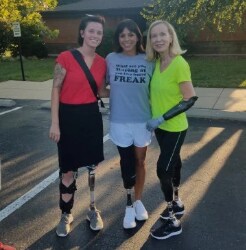 For winning our contest, Julie has been awarded a once-in-lifetime trip to New York City to attend a taping of The Mel Robbins Show on behalf of Eddy's Toyota and KSN! She is a true inspiration and we couldn't be happier for her accomplishments. She is a pleasure to get to know and our whole team supports her mission of inspiring people to live each day like it's their last.
Visit KSN's website today to
learn more about Julie Dumbo's story.
We are honored to have partnered with KSN in finding Julie and to have the opportunity to share her story with our followers.
**Due to the Covid-19 outbreak, Julie's trip to New York has been postponed. Please check back later for updates on her trip.**