It's issue 28! As always, thank you for reading! We hope you're having a great week. Our team compiled a fun list of activities for you to enjoy this weekend! From dance parties and shopping to giving back to the community, we have you covered for this weekend's outing!
​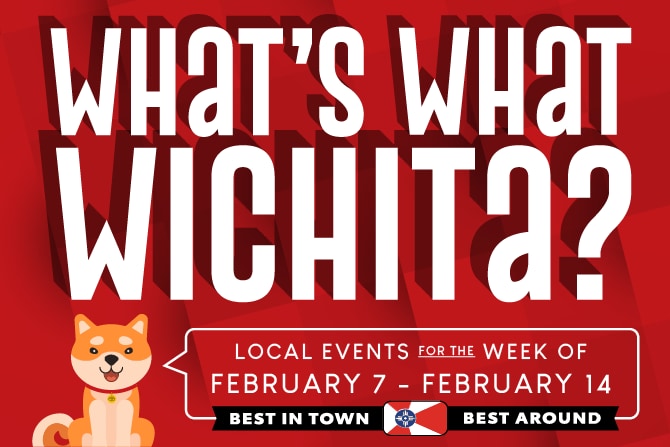 Events This Weekend
Come out to Century II on February 6th through February 9th for the 20/20 Home Show! This is open to the public and if you're needing a house related product, then this is the show for you! You can expect 250-260 local companies displaying all of your favorite house products.
Intrust Bank Arena is hosting Winter Jam on Friday, February 7th from 7pm-10pm! Purchase your ticket today to see all of your favorites. Enjoy many artists including Hillsong Young & Free, Andy Mineo, and Crowder! Special guest speakers also include Riley Clemmons, Zane Black, and more!
Stop by the Distillery 244 on Friday, February 7th from 6pm-10pm for the Shaker Full of Wishes event! Hosted by Make-A-Wish Missouri & Kansas, the evening will be filled with tasty drinks and food provided by local Wichita restaurants, a photo booth, music, and VIP guest wish kids! Be sure to purchase your ticket to support Shaker Full of Wishes!
There's no party like the 90's! The Wave is having another 90's Dance Party on Friday, February 7th from 9pm-2am! DJ Carbon will be on-site spinning all of your favorite 90's hits you know and love! Be prepared to pay a $10 cover and to dance the night away.
On Saturday, February 8th, join Matilda Jane Clothing for their Valentine Cookie Party! The event will be held at Love of Character on East Douglas, where each child will have the opportunity to decorate delicious cookies and make Valentines! This would be a fun event for your little ones!
Are you ready to shop? Look no further than the Workroom! Enjoy the best local shopping during this 2nd Saturday at the Workroom. There will be a lot of Valentine's Day gifts available for purchase from vendors including BoeTech, Giesen Greenhouse, JessDunegan Design, and more!
Come out to the Wave this Saturday, February 8th from 4:30pm-7:30pm for LunaFest, a fundraising film festival! This festival is dedicated to bringing women together as they highlight women as leaders in society. All proceeds will benefit the host, Girls on the Run Heart of Kansas.
WAGS 2nd Annual Barkin' Bingo!
Enjoy food, fun, and prizes at the 2nd annual WAGS Barkin' Bingo! This event will be held at the Mosley Street Melodrama on Sunday, February 9th from 6pm-9pm! This event is open to all ages, but please keep in mind that adult humor and drinking will be in play. All proceeds go to benefit the animals of WAGS.
Come out to the Wichita Oasis on Sunday, February 9th from 9am-3:30pm for their blood drive with the American Red Cross! This is a great opportunity to volunteer your time to help give back to those in need. Donors of all blood types are needed, and if you aren't able to donate, you are invited to bring pads, tampons, or toilette wipes for people in need.
What Do You Think?
That's this week's events for your weekend plans! We're happy to be your go-to resource for Wichita happenings. If you would like to share your feedback with us regarding our newsletter or about a car you're interested in, then please feel free to contact us! We can be reached at (316) 652-2222. We look forward to hearing from you!