Hello and thank you for reading this week's newsletter, issue 25! We hope you had a good week and that you have an even better weekend! We found a lot of fun events happening this weekend that we wanted to share with you. Enjoy your time off with your friends and family and we'll see you next week!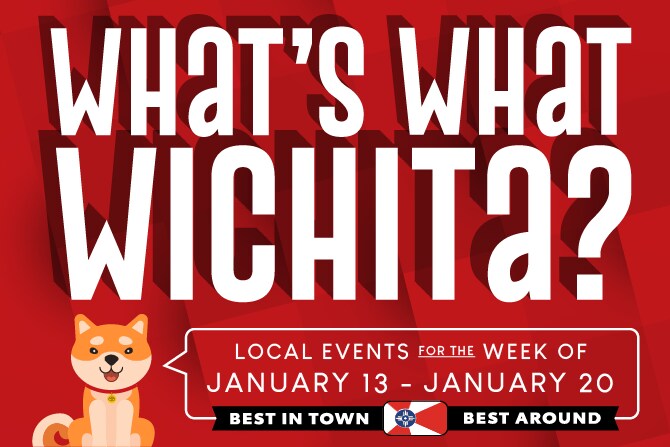 Events This Weekend
Cars for Charities
It's that time of year! Come out to Century II for this year's Cars for Charities Rod & Custom Car Show! From January 17th to January 19th, enjoy one of the longest-running and largest indoor car shows in the country! Visit their website today for times and ticket details.
Tanganyika Wedding Open House
Are you engaged? If you missed the Bridal Expo or are still looking for vendors to book for your special day, then the Wedding Open House at Tanganyika is the event for you! Come out and enjoy snacks and the best local wedding vendors in town. This event is free to attend!
Wichita Flea Market
The new scheduled for 2020 has been released for the Wichita Flea Market! The first one of the year will be this weekend on January 18th and January 19th at the Kansas Star Casino. Enjoy all types of vendors along with a Kids Zone and an Adult Zone.
Old Town Farmers Market
Stop by the Old Town Farmers Market this Saturday, January 18th at 10am! You can expect locally grown/raised foods and artisan and cool handcrafted products from producers you know and can trust. This is a weekly event and not one you should skip out on!
Saturday Night Public Skating
It's time to get on the ice! The Wichita Ice Center is inviting skaters of all ages to come out and enjoy public skating from 7pm-10:30pm on January 18th. This is a perfect activity for the whole family to enjoy! Admission is $7 and skate rental is only $3.
Wichita State Shockers vs. Houston
The Shockers are playing this Saturday, January 18th starting at 3pm! If you haven't already, it's time to purchase your tickets. The Wichita State University Men's Basketball team is on fire and their matchup with Houston will be worth watching!
Wichita Snow Glow Event
Visit the Mid-American All-Indian Center this Saturday for the Wichita Snot Glow Event! Hosted by the Wichita Park & Recreation and Wichita Snow Bros, you can enjoy a night time sledding event from 6:30pm-9:30pm! The event will feature music, LED light show, food trucks, and more!
Orpheum Theatre Ghost Tour
Do you believe the Orpheum is haunted? Come out to the Orpheum Theatre Ghost Tour to find out! Hear true ghost stories and personal experiences by the Wichita Paranormal Research Society. Learn why the beautiful 97-year-old building is claimed to be haunted. Admission for this ghost tour is only $20.
Yoga: Beginners Workshop
If you would like to learn more about YOGO, then check out this Beginners Workshop at Hot Asana Yogo Studio East. It takes place this Sunday, January 19th from 11:30am-1pm! You can expect a slower pace as you learn the fundamentals of yoga poses and breathing techniques. The class is $15 per person which includes complementary rental mat and towel.
Adoption Event with K9 Karma
Adopt your new furry friend this Sunday, January 19th from 1pm-4pm! Woof's Play & Stay is hosting an adoption event for K9 Karma! Tour the facility and see some sweet pups. Anyone that adopts a dog will receive two free days of day play at Woofs and a free night stay!
What Do You Think?
From charity events and shopping opportunities to family night fun and unique tours, we covered it all for this weekend's outing! We hope you enjoy your time with your friends and family as you explore these activities. If you have any questions, please don't hesitate to give us a call at 316-652-2222. You may also contact us through our website anytime. We would love to hear from you!