Thank you for reading this week's newsletter, issue 27! We are excited about this weekend and hope you are too! This Sunday is the big game and if you're still looking on where to watch the Super Bowl, then we have you covered! We also found a lot of other great Wichita happenings that we thought you might enjoy. Have a safe weekend!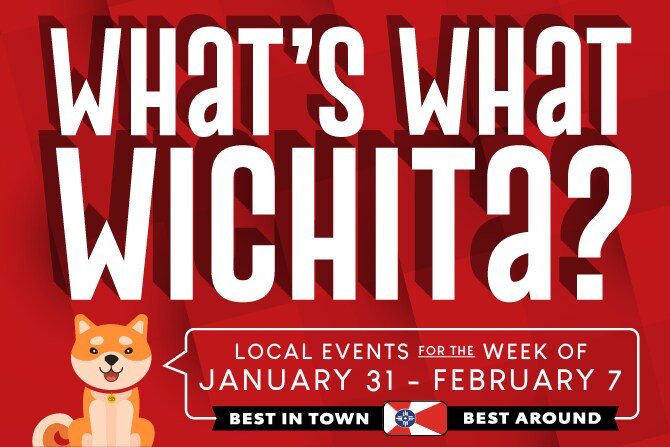 Events this Weekend
Craftapalooza Funky Junk Roundup Vintagefest
From January 31st through February 1st, enjoy Craftapalooza Funky Junk Roundup at Century II! It's a fun shopping event featuring all sorts of your favorite items including artisan designs, sparkly jewels, home décor, vintage items, modern trends, and a whole lot more!
It's that time again! The Wichita Ice Center is opening their rink for public skating on Friday, January 31st from 7pm-10:30pm. It's open to all ages and is a great opportunity to get the whole family out! Admission is only $7 and skate rental is only $3.
Check out Cocoa Dolce's New Market location! On Saturday, January 31st from 6:30pm-9:30pm, enjoy live music from Roberto Bernardinello on their patio. You can also expect hot chocolate, beer, wine flights, and more for a fun live music experience!
Who is ready for yoga and mimosas? Come out to the Vorshay's Cocktail Lounge on Saturday, January 31st from 10am-1pm! Enjoy self-care Saturday with yoga at 10am and mimosas and a mini brunch following afterwards. There are limited spots available so be sure to buy your ticket today!
Design & Grow Gardening Workshop
Are you ready for Spring? Do you like to work on your garden? Then this is the workshop for you! The Design & Grow Gardening Workshop will be filled with garden and landscape information for beginners and longtime gardeners. Be sure to purchase your ticket for This Saturday's event from 9am-4pm.
Stop by the Cotillion this Saturday and Sunday for the Wichita Cat Fancy Cat Show! From 9am-4pm on both days, you have the opportunity to enjoy concessions from local favorites, full bars, and of course cats & kittens! You can register your cat too! Tickets are available at the door for this event.
28th Annual Run Wichita Super Bowl Sunday 4-Mile
Before heading to your Super Bowl party, why not burn off some calories? Enjoy a 4-mile run at Linwood Park on Sunday, February 2nd at 2pm. You may register the day of the race at 12:30pm on-site. All proceeds will benefit Wichita's running club, Run Wichita.
Are you a bookworm? If so, this event might be of interest to you! Come out to Central Standard Brewing on Sunday, February 2nd from 12pm-2pm for their CSB Books & Brews. Enjoy a discussion of Ann Patchett's novel, "Bel Canto." Give them a call to learn more about this free event!
Are you ready to cheer on your favorite team during the Super Bowl this Sunday? Why not celebrate with 6s Steakhouse? They will have an all-you-can-eat $24 buffet and $5 drink specials! Plus, they will also have a 100-inch TV for you to watch the game on! Doors open at 4pm. Make your reservation today!
What Do You Think?
That's this week's newsletter! We hope you try new things as our team found unique activities taking place in Wichita this weekend. We also hope you have a fun and safe Super Bowl party! If you would like to provide your feedback on our newsletter or our dealership in general, then we want to hear from you! You may contact us online anytime or by phone at (316) 652-2222.