Are you ready for the weekend? Do you have anything planned? If you're still trying to fill up your calendar, we have you covered. Enjoy tasty food, live music, a car show, roller skating, and so much more! Check out this week's newsletter, issue 52 to see what's happening this weekend in Wichita, KS.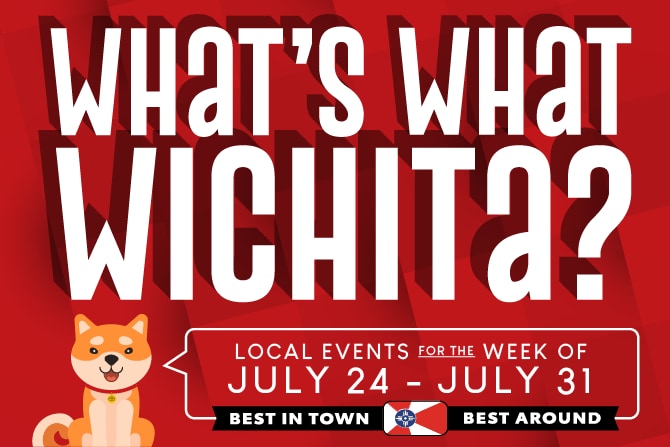 Things To Do This Weekend
26th Annual Automobilia Moonlight Charity Car Show
Check out one of the largest car shows in Kansas this Saturday, July 25th! They have changed their location to 47th and Oliver and will be hosting it from 4pm to midnight! This is a family-friendly event with food trucks, vendors, bands, and a lot of cars! Visit their Facebook page today for details.
Lunch & Sun
Join 6s Steakhouse for your favorite lunch menu items, drink specials, and a wonderful performance by local artist, Patz! Their dining room and patio will be open from 11am-3pm every Sunday. Patz will be performing from 12pm-2pm. You can expect the best hospitality, food, and drinks when you dine at 6s Steakhouse.
Dog Days of Summer
Join Two Olives for a doggone fun event! On Saturday, July 25th, their brunch will begin at 10am until 2pm and then their regular menu will commence from 2pm-8pm that evening. Your $5 (per dog) purchase comes with plenty of added extras. Reservations are strongly encouraged so they can save a patio table just for you and your pup! There will be dog bowls, dog beds, and treats for your dog as well! Visit their Facebook page today to learn more.
Public Celebration of Life for Dancin Don
Wichita legend, Don Hall, was known by everyone in the community! To celebrate his life, a public celebration will be held on Saturday, July 25th at 11am at the Charles Koch Arena. This is a great opportunity to honor the life of Dancin Don Hall, a man near and dear to the hearts of Wichitans and Shocker Fans. Please note that social distancing will be practiced and face masks will be required.
City Park After Dark
ICT Roller Derby is hosting a skating 101 night! Get comfy in your new gear with the members from Wichita's roller derby team! Learn to roller skate with roller girls on Saturday, July 25th from 10pm to midnight. This is a free event, but donations are encouraged. All donations will be benefiting Skate South! Be sure to bring your own gear!
Tomato Fest
Check out Tomato Fest on Saturday, July 25th at the 21st and Ridge Farmers Market! From 7am to noon, enjoy the farmers market, live music, food trucks, Troubles the Clown, and a tomato contest! The Tomato Growing Contest is accepting entrants at 8am and the judging will begin at 9am. There will also be a chef tomato demo at 9:30am and planting tomato plants for the kids.
Happy Birthday Wichita & Sedgwick County!
The Wichita-Sedgwick County Historical Museum is celebrating two special birthdays on Saturday, July 25th - the 150th anniversary of the founding of Wichita & Sedgwick County! Come out and enjoy this free event from 1pm-5pm. Please be sure to bring a birthday card and enter through the Heritage Square on William Street. This is a first come, first served event where masks will be required inside of the museum.
Christmas in July at Woof Gang Bakery & Grooming
Help Beauties & Beasts boarding dogs at Christmas in July at Woof Gang! The staff at Beauties & Beasts could use the following items to make sure the animals in their care are comfortable this summer: dog/cat food, meat soft treats, toys, bones, pig ears, dog beds, blankets, and more! Donations (including gift cards) are being accepted at Woof Gang through the month of July!
Wichita Flea Market
Come walk the aisles at the Kansas Star Casino Arena and peruse through the 200 plus booths that include antiques, crafts, vintage items, collectibles, comics, artwork, jewelry, and so much more! The flea market is operated by a local Wichita family. Admission is $3 per person for a one-day pass and $5 per person for a two-day pass. Be sure to visit their Facebook page to learn more about their booth rental options if you would like to be one of the vendors!
Ghost Hunt in a Ghost Town
Join the Old Cowtown Museum for a ghost hunt on Saturday, July 25th from 5pm to midnight! Enjoy a meet & greet with Chris and Mike as they investigate the Old Cowtown Museum and the town of Wichita, KS. There will also be a Q&A session. Check out their Facebook page today to view tickets details. Limited tickets are available so be sure to grab yours today!
What Do You Think?
And that's a wrap! That's this week's newsletter, issue 52! From a unique ghost hunt and shopping opportunities, to live music and the best food in town, we hope you find something that the whole family will enjoy (or your friends)! As always, we are here for your automotive needs. We are also happy to be your go-to resource for fun weekly Wichita events. If you would like to share your feedback, please
contact us through our website
or by phone at
(316) 652-2222.