Do you know what's happening in our community this weekend? From a car show and a tasty brunch to live music and a 10K, there's a lot to do! There are also activities you can do with your kids such as a virtual camp and a summer event that teaches kids how to save. Check out this week's newsletter, issue 53 for everything weekend related!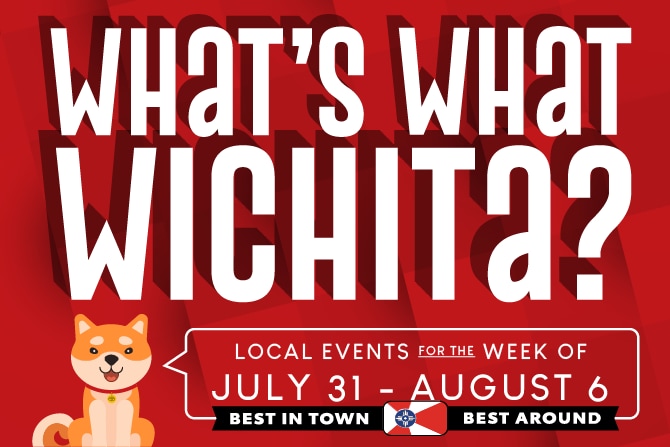 Things To Do This Weekend
Andale Summerfest Car Show
Come out to SS Air Express, Inc. for the Andale Summerfest Car Show on Saturday, August 1st from 8am-3pm! Registration starts at 8am and there's a $10 entree fee. With the support of the community, SS Air Express would like to ensure everyone that the event is still taking place. They will be taking the correct precautions to protect everyone attending. They hope to you there for a fun-filled day!
Brunch, Bingo, & Beer
Join Chicken N Pickle every Sunday for Brunch & Bingo! Enjoy a yummy brunch buffet from 10am-2pm, beer specials from the Wichita Brewing Co., and bingo from 11am-1pm! Bingo is completely free and there will also be a-la-carte brunch options available. Be sure to visit their page for more upcoming events!
WFFA 2020 Championship Game
Stop by the Barry Sanders Football Field on Sunday, August 2nd from 6pm-8:30pm to watch the best football that Wichita has to offer. Two teams will go head-to-head for the chip at the WFFA Championship Game! The pre-game tailgate will be from 6pm-7pm, the game will run from 7pm-8pm, and the post-game celebration will shortly follow!
Coffee Connection
Enjoy a cup of coffee at the Sedgwick County Zoo on Monday, August 3rd at 9am! Coffee will be provided from their friends at The Spice Merchant. Coffee Connection is free to attend for those who would like to hear about Zoo happenings and insight into the inner workings of the Zoo. You can expect to learn about conservation initiatives, training and enrichment, and so much more!
Fishing At Andover Central Park
Join the Andover Pack 533 Cub Scouts for some fishing on Saturday, August 1st from 10am-11am! If you have a little one that would like to join this troop, then you should come check it out! Their pack is open to all boys and girls, kindergarten to 5th grade. This fishing event will allow you the opportunity to see what their scout activities look like and what their scouts learn at each event. Visit their Facebook page to learn more!
Live Music Fridays
6s Steakhouse is hosting Live Music Fridays at their fine dining restaurant! Come out on Friday, July 31st for a wonderful music performance by Patz. He is a crowd favorite and is back by popular demand! Patz will be performing from 5:30pm - 7:30pm. You can watch him in the dining room or from the comfort of your own home. He will be live streaming on their Facebook page. Don't forget that you can order takeout & delivery their mobile app as well.
Saving & Giving Back: Summer Event For Wichita Kids
Instilling healthy money habits can never start too early! Wichita Mom invites you to join them and Capitol Federal in opening a savings account for your child(ren)! Now through August 2nd, a child may visit any Capitol Federal Branch in the Wichita market area to open a Blue Bucks Kids' Saving account! Plus receive other perks when signing up! Visit their Facebook page today to learn more.
Great Plains 10K
Join the Sedgwick County Park on Sunday, August 2nd from 8am-10am for the Great Plains 10K! The race will start and finish in Sedgwick County Park. Participants in the chip timed 10K will receive a great event shirt, large finishers medal, and custom bibs. Participants will also be eligible for top overall, masters, and age group awards. Contact the Wichita Running Company for registration details!
Old Town Farm & Art Market
Don't miss the Wichita's Downtown Market since 1991! Come out to the Old Town Farm & Art Market on Saturday, August 1st at 8am! Have fun and shop outstanding food, arts, and homemade products from producers you know and trust. This is a great way to connect with area residents and visitors to our city.
Camp In A Box
Unpack the science at the Exploration Place! There's still time to pick up your camp box for your child(ren) now through August 24th. You can choose from two themed sessions per week which include the fun camp kit, virtual social time with other campers, and a special lunchtime guest who will share expertise about the camp topic. Visit their Facebook page today for their registration details.
What Do You Think?
If you didn't have something to do this weekend, we hope you do now! There's a lot happening in our Wichita community and we're grateful to be your go-to resource for everything fun! Please let us know if you have any questions. We welcome your feedback and if you want to drop us a line, we can be reached at
(316) 652-2222
. You can also
contact us through our website anytime.