Hello Wichita! We're excited for this week's newsletter, issue 46! From live music and shopping to car & theater shows, we have your weekend covered! Take a look at all of the events we found happening in our Wichita area. We hope you and your loved ones have a fun weekend and we'll see you next week!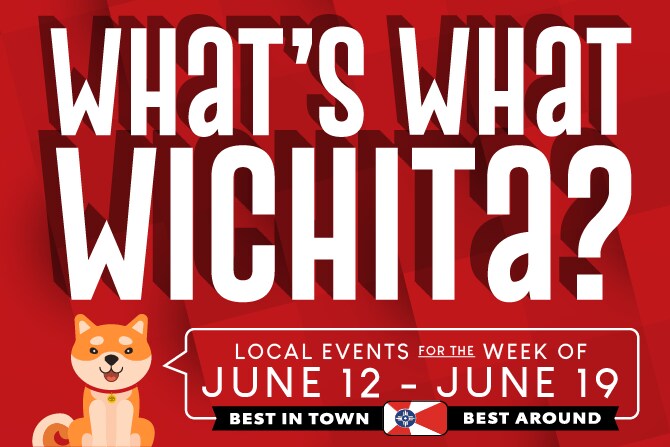 Things To Do This Weekend
Old Town Farm & Art Market
Don't miss the Old Town Farm & Art Market this Saturday! Come out and shop for outstanding food, artwork, and handmade products from producers you know and trust. As you know, the Plaza has been renovated and the Market is growing! The Market site now includes Farm & Art Plaza and Rock Island, and runs all the way down to 2nd Street. Be sure to pay a visit and support your local vendors.
Jenny Dawn & Live Jazz
Stop by Jenny Dawn Cellars this Saturday from 7:30pm-9:30pm for some live Jazz! Unwind on the Jenny Dawn Cellars patio for live Jazz and wine service. The wonderful musicians from Lisa Hittle's Jazz Plus will be performing. The tasting room will be closed at 9:30pm, but guests are welcomed to stay and sip on the patio until 11pm. Come out and have some fun! There will also be four new wines available for purchase.
Paddleboard Yoga!
Join Limitless Yoga Studio for a Paddleboard Yoga Class this summer on Santa Fe Lake! The first class will be held on Saturday, June 13th at 9am! This is a unique experience that everyone always has fun with! No experience is required with yoga or paddleboard. Your $25 ticket includes the hour long class, your paddleboard, oar, life vest, and lake parking. This adventurous class is limited to small numbers so tickets will go fast!
2nd Saturday (Virtual) Artisan Market
Shop your favorite local artists and makers you've come to know and love through the Workroom events! The Workroom, Cleveland Corner, and The Art Council are hosting the 2nd Saturday Artisan Market online from 10am-5pm this Saturday. Be sure to visit their Facebook page to receive their promo code and get 15% off the entire Workroom online store!
Pickle & Pints Pickleball Tournament
Chicken N Pickle is hosting a Pickle & Pints Pickleball Tournament on Saturday, June 13th from 11am-2pm! This is a fun and social tournament for Mixed Doubles, costing only $40 per team! Plus, enjoy the first beer on the staff! Please note that you must be 21 years of age or older to participate. Visit their Facebook page for details and to learn more about their upcoming events!
South Central Kansas Mustang Club - 27th Annual Mustang & All Ford Car Show
Come out to the Sedgwick County Park on Saturday, June 13th from 8am-4pm for a free car show! The Mustang Club will have a raffle of several prizes that you can purchase tickets for the day of the event. You can find the show area in the large field at the north end of the park. Masks are suggested for this event, but not required. It is also asked that you please try to maintain a 6 foot distance from others as much as possible.
Live Music Fridays at 6s Steakhouse
6s Steakhouse is excited for the return of the Whitnie Means Band! They perform beautiful interpretations of country, classic rock, and pop. They include original music in their performance as well. Tune in on Friday, June 12th from 5:30pm-7:30pm on their Facebook page for the live performance! You can also dine-in in-person to watch the band and to enjoy 6s Steakhouse's drink and food specials.
Saving Pirate Ryan
Visit Mosley Street Melodrama this weekend for Saving Pirate Ryan! It's a show about pirates, a treasure hunt, an evil captain, and of course Anne Hathaway. You can expect a lot of comedy and great food as you enjoy this pirate classic. It's rated PG-13 for some innuendo and starring in this dinner theater is Tara Clary, Steve Hitchcock, JR Hurst, John Keckeisen, Briley Meek, and Megan Parsley. Be sure to check their Facebook page for dates and times of the show.
Wichita River Cleanup
On Saturday, June 13th at 9am, the Wichita RiverWalk Cleanup Crew will be meeting for their next monthly cleanup. If you would like to join, they will be meeting under Kellogg at the old Gander Mountain. Everyone is invited to participated, but its asked that you don't bring pets for safety reasons. Be sure to wear a pair of sturdy shows that you are okay with getting dirty. This will be an annual event that happens on the 2nd Saturday of every month, so if you can't make this one, try to make the next one!
What Do You Think?
We hope you along with your friends and family have a great weekend! There's a lot of activities to partake in this weekend in our community. Don't forget that we are always available for your automotive needs too! We're happy to help and look forward to seeing you. If you have any questions or would like to share your feedback, we can be
contacted through our website
or by phone at
(316) 652-2222.