Check out this week's newsletter, issue 47! We hope you and your family have a wonderful Father's Day weekend! We found a lot of fun activities you can do with Dad and hope that helps make your time with him that much more special. Have a safe weekend and we look forward to seeing you next week!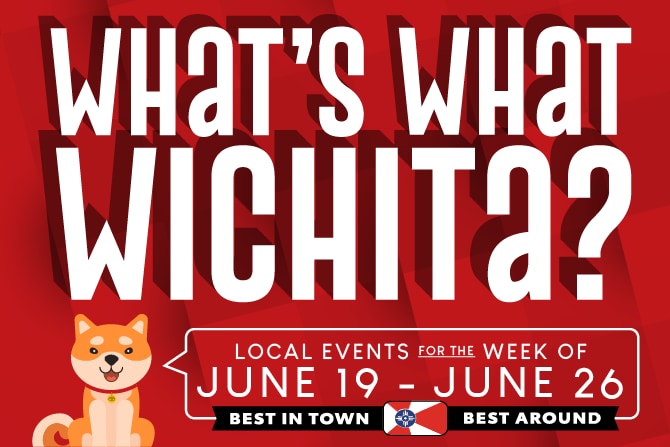 Things To Do This Weekend
Father's Day: Steaks & Drinks
Do you know what you're doing for Father's Day? Why not enjoy delicious steaks and drinks with Dad at 6s Steakhouse? We'll be open from 11am-7pm to serve you your favorites and to provide the best hospitality. Plus, enjoy a performance by local artist, Patz from 12pm-2pm. Please don't hesitate to reach out to the restaurant with any questions! You make reservations on their website.
Father's Day Charity Car Show
Automobilia Moonlight Carshow & Street Party is hosting a Charity Car Show this Father's Day! From 9am-1pm, enjoy on all vehicle show to support Convoy of Hope Wichita. Entry to the car show is a donation or freewill donation will be taken at the door. You can also donate food items! If you would like to reserve a spot for your vehicle, be sure to visit their Facebook page for more details. The car show will be located at 3777 S. Meridian Ave. in Wichita, KS.
3rd Annual $200 Father's Day Corn-Hole Tournament
On Saturday, June 20th Little Busters Sports Bar will be holding their 3rd annual Father's Day Corn-Hole Tournament with a $200 first place prize, $100 second place prize, and consolations prizes for third and fourth place! The courts will be set up in their front parking lot with sign-in and last-minute registration available. Sign in (sign up) will be held at 11am and the bag tossing will begin at 11:30am. Visit their Facebook page today to register your team!
Floatin' on the River: Glow Tour
Enjoy a moonlight trip along the Arkansas River all summer long! Starting June 20th, you can kayak the river with the stars shining overhead! You and your kayak will be glowing with lights and glow sticks as you make your way to the Keeper of the Plains. From there, you can watch the Ring of Fire lighting from the water. Talk about an amazing view! You must be 16 years old to participate. View their Facebook for registration details.
Pickleball with Pops
Come out to Chicken N Pickle this Sunday from 9am-12pm to play Pickleball with Dad! They will have two divisions: Pops with 18 & under and Pops with 18 & over! It will be a great time spent with family and they also have tasty food and drinks! Head over to their Facebook page to sign up and to learn more about their registration details.
Dads & Dogs
Join Two Olives for this doggone fun double event! They are celebrating the official first day of their Saturday Brunch with a special Dads & Dog Summer event! Come out between 9am and 2pm for home-made dog treats, swag for your pup, exclusive patio seating, shaved ice, and more! Spots are limited so be sure to reserve your seat today! It will be a fun festive brunch that Dad and your pup are sure to enjoy!
Art Garden & Drop-In Tour
The Wichita Art Museum is hosting a tour! Drop in and explore their "roofless museum" that features work by renowned sculptors such has Henry Moore, Tom Otterness, Jun Kaneko, and more! Meet in the museum's Boeing Foyer where you will meet with a WAM Docent as your guide. Ages 6 & over are welcome to join in on the fun! This tour focuses on outdoor sculpture and social distancing will be practiced during this outdoor activity.
Wichita By Bike Class
Join the Bike Walk Wichita group to learn about Wichita's bike infrastructure network and local resources. Plus, learn the rules of the road and other safe riding skills to keep you rolling safely taught by certified Cycling Instructors. The parking lot drills and group ride will be held on Sunday, June 21st at 2pm! Visit their Facebook page today for their virtual class video and for registration details. Be sure to pass this along to those that like to bike around ICT!
13th Annual Fly-In
Stop by the Stearman Field Bar & Grill on Saturday, June 20th for their all-day event! The 13th Annual Fly-In will have all kinds of crafts throughout the day. There will also be live music by The Scandalnavians from 12pm-4pm. You will also have the option to view the aircraft up close! Plus, be on the lookout for their beer garden and concession stand outside. They look forward to seeing you and having some fun!
Summer Food Program
The Wichita Public Schools is providing free grab and go meals twice a week with breakfast and lunch items! This is for any child ages 1-18 during their Summer Food Program running now through July 31st! Please note only children present will be able to receive a meal. Visit their Facebook page today to learn about bus routes, meal locations, and times on when food is being handed out.
What Do You Think?
And that's a wrap! That's this week's newsletter and we hope you found it useful! There's a lot to do with Dad and wish you a wonderful time spent with your loved ones. Don't forget that we are here for your automotive needs too! If you have any questions or would like to share your feedback, please
contact us through our website
or give us a call at
(316) 652-2222
. We would love to hear from you!