Check out this week's newsletter, issue 45! It feels like summer outside and there's plenty to do! From Riverfest virtual events and 6s opening their patio on Sunday for live music to kid events at the Exploration Place and free fishing this weekend, we have you covered! Stay safe and have fun, Wichita! We'll see you next weekend.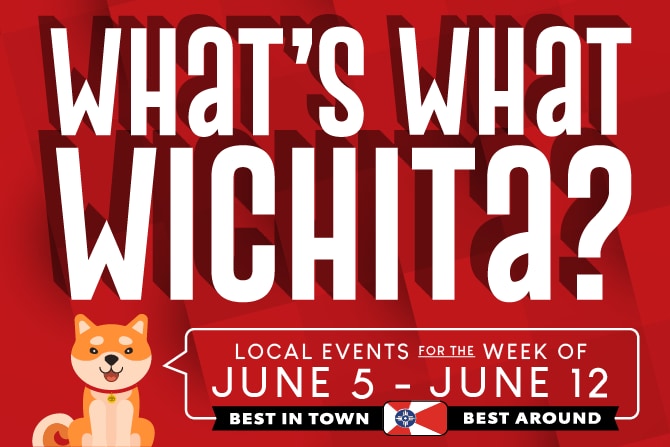 Things To Do This Weekend
Lunch & Sun at 6s Steakhouse
Come out to 6s Steakhouse for your favorite lunch menu items, $15 bottomless mimosas, and a wonderful performance by local artist, Patz! Their dining room, bar, and patio will be open from 11am-4pm every Sunday. You can find Patz performing from 12pm-2pm in the dining area! You can expect the best hospitality, food, and drinks when you dine with 6s Steakhouse! Be sure to check out this upscale steakhouse this weekend.
Riverfest Virtual Car Show
Join the Wichita River Festival Virtual Car Show on Friday, June 5th at 11am & Saturday, June 6th at 11am! A video will be displayed on the Wichita River Festival Facebook page. You will have the opportunity to vote for your favorite entry by clicking "Like" on the photo of your choice. Votes will be calculated by 7pm on Saturday and the People's Choice winner will be announced at 8pm on June 6th! Check out the Car Show today and vote for your favorite ride!
Old Town Farm & Art Market
Visit downtown Wichita this Saturday for the weekly Old Town Farm & Art Market! There's a lot of shopping to be had! You can expect outstanding food, arts, and handmade products from producers you know and trust. As you know, the Plaza has been renovated and the total Market site now includes Farm & Art Plaza and Rock Island, all the way down to 2nd street. The Market will be open from 8am-1pm.
Sangria in the Sun
Jenny Dawn Cellars is hosting another Sangria in the Sun event! They are excited to open up the winery patio for customers to enjoy Saturday from 12pm-4pm. Customers are asked to place their order ahead of time and select curbside pickup to participate. This is a great way to get out, enjoy the sunshine, and meet new people! You can order on the link found on their Facebook page.
Camp in a Box
Can you dig it? Every week through August 3rd, the Exploration Place is hosting a Camp in a Box! Each week has a different themed kit including Dinosaur Camp, Wild Weather, Superhero Academy, Adventures in Space, and more! No matter the kit your child chooses, you can expect a multitude of hands-on activities that will keep your child immersed in all things STEM. You can either pick up the kit at the Exploration Place or have it delivered straight to you. Visit their Facebook page today for details.
ICT Vintage
The Crown Uptown Theatre is hosting a new kind of shopping experience! Come out on June 6th through June 7th for collectibles, theatrical costumes, and a whole lot more! It's only $3 at the door to enjoy concessions and there will be a full bar available too. If you would like to rent a booth at this event, please give the Crown Uptown Theatre a call at 316-612-7696.
Free Fishing This Weekend
Enjoy free fishing days in Kansas this weekend! You won't need a license to fish any public Kansas waters. Feel free to visit public fishing ponds and lakes in Sedgwick County or go beyond to bigger lakes in Afton, El Dorado, or even Cheney! Have fun and stay safe fishing this weekend! If you have any questions, you can always call the park office.
Outdoor Yoga & Kombucha
Join Limitless Yoga Studio at the new outdoor venue at Inspirit Kombucha's taproom! Enjoy their patio with a glass of Mango Ginger, Orange Cranberry, Strawberry Mint, and more after class! To adhere to social distancing guidelines, the class is limited to 30 people. Be sure to give them a call or visit their Facebook page today to purchase your $10 ticket! Spots are limited and going fast!
2020 Photo Competition
Attention photographers! Botanica is hosting a photo competition this summer! You have until June 15th to submit your entry. All entries should depict the photographer's impression of Botanica from January 2019-March 2020. Winners will have their photo displayed in their lobby July and August of this year. Be sure to visit their Facebook page to learn more about their categories, prizes, and guidelines.
Brunch, Bingo & Beer
Chicken N Pickle is hosting Brunch & Bingo every Sunday! Enjoy a tasty brunch buffet, beer specials from the Wichita Brewing Company, and of course bingo! Brunch is from 10am-2pm, Bingo starts at 11am and is free to the public! They will also have a-la-carte options for you to purchase.
What Do You Think?
We hope you and your loved ones enjoy one or more of the above summer activities! We not only enjoy being your go-to resource for all things cars, but your go-to resource for all fun events and happenings in the Wichita and surrounding area. If you would like to share your feedback with us, please feel free to
contact us through our website
or by giving us a shout at
(316) 652-2222.