Hello Wichita! Check out issue 32 of our weekly newsletter! Warmer weather is approaching and we're thrilled to have found a plethora of activities for the whole family to enjoy. We're proud to be your go-to resource for fun Wichita happenings. Please have a safe weekend and we'll see you next week! Don't forget to click on each event below to learn more about that specific activity.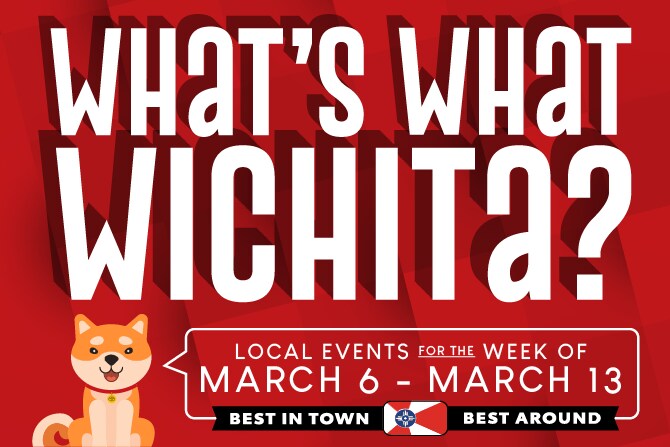 Events This Weekend

2020 Outdoor Living and Landscape Show
Come by Century II this weekend to enjoy the Outdoor Living and Landscape Show! If you're a homeowner, then this is the event for you. Learn great ideas on landscaping, gardening, yard, and other outdoor projects. Plus, check out display gardens and get your shopping on with a ton of vendors on-site. Visit Century II today for ticket details.
Women to Women Networking
All women in the Wichita community are invited to the Woman to Woman Networking event taking place on Friday, March 6th at the Rhatigan Student Center! From 4:30pm-6pm, enjoy refreshments, professional conversations, and get to know the women in your community along with WSU students! This is a free event working checking out!
Family Fun Night
Join Jumpy Jump Land on March 6th from 6pm-9pm for a fun-filled night! Their Family Fun Night consists of crafts and games for all ages, a St. Patrick themed bingo, door prizes throughout the night, and of course - jumping! Cost is $5 per person and parents are free with child paid admission. Don't forget to have your child wear green socks for their chance to win a prize!
Live Music Fridays Featuring The Steinbergs
You're invited to 6s Steakhouse this Friday, March 6th for their weekly Live Music Friday entertainment! Enjoy $5 drink specials and tasty appetizers as The Steinbergs perform your favorite tunes. Don't hesitate to reach out to the restaurant for more information! You can give them a call at 316-361-6667 to book your table.
Dance Odyssey Celebration
Come out to the Crown Uptown Theatre on March 7th to enjoy the Dance Odyssey Celebration! This show will be presented by Amira Dance Productions, Wichita's longest-running community dance studio. Doors open at 6pm and you're welcome to find a seat for a night of entertainment by various world and cultural dances. Tickets are available at the door!
Daddy Daughter Date Night
Join Haysville High School for a Frozen Daddy Daughter Date Night! If your daughter loves the movie, Frozen then this is the dance for you! Come out on Saturday, March 7th from 5pm-8pm for a night of music, dance, and light snacks! Plus, you will have the opportunity to meet Elsa, Anna, Olaf! There will be a photographer available on-site for additional charge.
Wichita Symphony Youth Orchestra
It's time for their spring concert! Come out to Century II on March 7th and March 8th to hear a beautiful performance from the Wichita Symphony Youth Orchestra & Ensembles. This group of talented people are made up four ensembles! Reach out to Century II today to learn more about the times and admission of this wonderful performance!
Disney on Ice
Intrust Bank Arena is hosting Disney on Ice this Sunday, March 8th at 5pm! Doors open at 4pm and children of the age 2 and younger get in for free! Make sure to grab your mouse ears and get ready for a party as your favorite Disney characters skate into Wichita! Tickets are limited so be sure to reach out to Intrust Bank Arena today for ticket details!
2nd Sunday Slow Roll & Stroll
It's going to be another beautiful weekend here in Wichita, KS! Join Bike Walk Wichita on Sunday, March 8th from 3pm-4pm for a bike ride! The group will explore Sedgwick County Park and all ages are invited! Walk or ride, everyone is encouraged to explore nature on this beautiful day. If you don't have a bike, don't worry! There will also be bikes available to rent.
What Do You Think?
We hope you're able to get out this weekend and enjoy the sunshine! It will be the perfect weekend to enjoy the outdoors and to get involved in the community. If you have any questions or would like to provide your feedback, you may
contact us
at
(316) 652-2222
. We would love to hear from you!