Thank you for reading this week's newsletter, issue 42! We hope you had a wonderful Mother's Day and that you're staying safe during our city's reopen. We found more events and activities for you to enjoy this weekend with your loved ones. Don't forget that we are also open and ready to help with your automotive needs! Please see below on what you can do this weekend. Be sure to click on each title of the activity to learn more about it.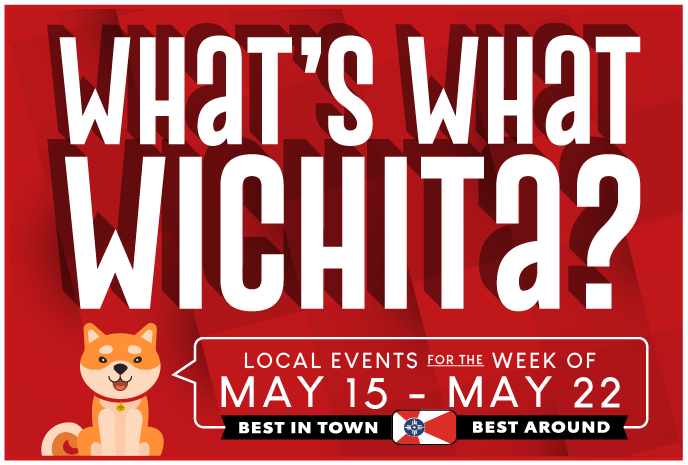 Things To Do This Weekend
Let's Roam Scavenger Hunt
Are you looking for something to do this weekend that requires you to leave your house? How about roaming Wichita with a small group of friends? Let's Roam is putting on a Wichita Scavenger Hunt for you to seek out national treasures hidden around our city. Be sure to select a date and sign up for your event today! These scavenger hunts are great for bachelorette parties too! Be sure to visit their page to learn more.
Grab A Drink At 6s Steakhouse
The bar is back open at 6s Steakhouse! They have new and improved cocktails made by their experienced barkeep. From tasty raspberry and vanilla gins to their 6s Old Fashion bourben, they have a drink for everyone. They are open for dine in as well and also have curbside pickup and delivery. Be sure to pay them a visit this weekend for a fine dining experience and the best food in town. You can call to place your order or you can order online.
Flint Hills Counterpoint Natural Springs Tour
How does a tour of the Flint Hills sound in Marion County? For only $15, enjoy a tour of the most natural springs of any county in Kansas. The tour will include the Tabor choir and dancer, Cheyla Chandler with cellist Susan Mayo. There will be a nice dinner afterwards at the Historic Elgin Hotel at 6pm. This tour is taking place on Sunday, May 17th from 1pm-5pm! Make a day of it and explore Marion county!
Entrepreneur Crash Course
Would you like to start your own business? For all of the entrepreneurs out there, this business course is for you! In this free training, you will learn what your business plan must have, the best type of businesses to start right now, how make large profits, and more! This will be an online webinar so you can watch it from the comfort of your own home. Be sure to grab a paper and pencil and be prepared to take some notes!
Young Adult Cross/Over Book Club
This is geared towards young adults, but it's perfect for any reader. The Watermark Books & Cafe will be reading across genres, discussing some of the best books written for teenagers. On the third Saturday of every month, a book will be discussed from 2pm-3pm in the Starry Night Room. Melissa Robbins is the leader of the discussion who is an adult mystery and young adult writer. Be sure to visit their website to see the next book in line so you can prepare for the next meetup!
Gnome At Home: Virtual Taproom
Who doesn't love the Hopping Gnome? If you've never been, then now is the time to try their tasty drinks. Their taproom is still closed, but they are still open for curbside pickup. In the meantime, they host a Facebook live every Friday from 7pm-8pm to visit with their fellow gnomies! It's a great way to interact with the staff, to see what's new, and learn the latest updates about their reopening. Join in on the fun and possibly make some new friends!
Old Town Farm & Art Market
Wichita's Downtown Market since 1991, the Old Town Farm & Art Market is on this Saturday! From 8am-1pm, enjoy outstanding food, arts, and handmade products from producers you know and trust. This time you will notice their Plaza renovation and how they are growing the Market. The site now includes Farm & Art Plaza and Rock Island, all the way down to 2nd street. Come out and shop on Saturday!
Derby Farmers Market
Don't miss the Farmers Market in Derby this Saturday! Hosted by the Kansas Grown Inc., enjoy fresh strawberries, fresh eggs, Kansas corn fed beef, fresh baked goods, pet treats, Kansas made salsa, and much more! The Farmers Market will be located in Madison Avenue Central Park and will take place from 8am-noon.
Sangria in the Sun
Join Jenny Dawn Cellars this weekend for Sangria in the Sun! They are excited to open up their winery patio for customers to enjoy. To participate, customers must place their order online and select curbside pickup, Then, customers can come into the winery, pick up their order and consume it on their patio. They are offering sangria in to-go cups for $8, and charcuterie plates for $10. Be sure to check them out on May 20th as well for that's when they open their full tasting room service.
Outdoor Vintage Flea Market
Come out to the Paramount Antique Mall on Saturday, May 16th from 8am-3pm for their outdoor vintage flea market! There will be a lot of outdoor booths set up with awesome finds! They will also have concessions from Snack Shack available! Rain or shine, the vintage flea market will go on! The mall asks all shoppers to adhere to social distancing guidelines and they will also have a hand sanitizing station set up outside.
American Idol Finale Featuring Arthur Gunn
Chicken N Pickle will have their big screen TV's on in full support of our very own Wichita singer, Arthur Gunn! Pick up your to-go orders or grab a table and a bite to eat as everyone cheers on our hometown hero! They will have pulled pork nachos, 10 wings for $10, and $2.50 Busch Lights! Enjoy some fresh air, fun, and open spaces! The tables will be spaced out safely.
What Do You Think?
And that's a wrap! There's a lot of fun happenings taking place this weekend and we hope you're able to participate in one of them! We're happy to be your go-to resource for not only your automotive needs, but for Wichita events too. Please let us know if you have any questions! You can
contact us through our website
or by phone at
(316) 652-2222.