Can you believe we're on issue 43? We've enjoyed finding fun events in the Wichita community and hope you're enjoying them! With our city reopening, there are many more activities for you to choose from. Check out these 10 happenings taking place in our area. We hope you have a fun and safe Memorial Day weekend and we'll see you next week!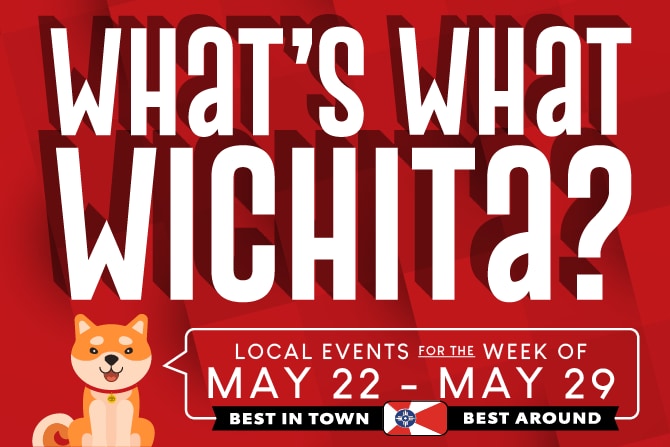 Things To Do This Weekend
Saturday Sidewalk Sale
The front porch of the Museum of World Treasure will be open on Saturday, May 23 from 9am-1pm! Visit them anytime to select your Fun Pack of choice - World Treasures Fun Pack, Dinosaur Lovers Fun Pack, Patriotic Fun Pack, and more! A register will be set up on the front porch of the Museum so there will be no need to go inside. This will allow for a come and go (while staying safe) shopping experience. Be sure to visit their Facebook page to learn more about each of their Fun Packs.
Charlie Wilks Returns to the R Coffee House
Come out to the R Coffee House on Saturday, May 23rd at 10am for a wonderful show from Charlie Wilks! From pop to rock, and jazz to electrifying solo Fingerstyle acoustic guitar, this show will have music for everyone. Enjoy a cup of coffee and some great music this Saturday! The R Coffee House has made great use of their outdoor seating so everyone will be able to adhere to social distancing guidelines.
Community Positivity Art Project
Join the Derby Arts Council in a community art project this weekend! Individuals, businesses, churches, and any other organization in Derby are invited to participate. How does it work? Create art on a sidewalk or your driveway, then share a photo of it on their Facebook page. The City of Derby has waived the need for a permit to create art on city sidewalks! It just needs to be removed by the end of the day May 31st.
Keepin It Clean Karaoke At Madrocks
On Saturday, May 23rd starting at 9pm, come out to Madrocks in Derby for clean Karaoke! They will wipe the mic after every use with sanitation wipes to ensure you have a safe and enjoyable night. Please remember to keep your distance and try not to touch your face and others too much. There will be sanitizer stations available throughout the restaurant for the public to use.
Live Music Fridays at 6s Steakhouse
Looking for something to do on Friday night? How about tuning in to hear some live music by local artist, Patz? 6s Steakhouse will be live streaming Patz's performance on Friday, May 22nd from 5:30pm-7:30pm! You have the option to tune in on their Facebook page or you can watch his performance in person. The restaurant is open for dining in and is still offering curbside pickup and delivery.
Community Garden Work Day
Do you like to garden? Then this is the perfect event for you! Come out to Fairmount Coffee Co. on Saturday, May 23rd from 9am-12pm for a garden project. They will work on planting many items in their garden, weeding, and caring for the already growing plants! If interested, please meet outside on the East lawn by the garden at 9am for instructions. Don't forget that everyone will be adhering to social distancing guidelines.
Livestream with The Steinbergs
On Monday, May 25th, enjoy a live concert featuring The Steinbergs! The concert will be held at Chicken N Pickle starting at 5:45pm and you're invited! You may enjoy the concert in-person or live on their Facebook page. The restaurant will be open and offering all of your favorites. Please know that everyone will be adhering to social distancing guidelines.
Memorial Day Block Party!
Chicken N Pickle is hosting a Memorial Day Block Party on Monday, May 25th from 1pm - 4pm! They will have The North Shore Shave Ice, DJ Bearfoot, and $1 Shuffleboard & Boccee Ball! They have so much room that you will be able to celebrate with your friends and family at a safe distance! They will also be offering an All-American Burger for $9, their Knotty Cherry for $5, and Bud Light for $4!
Box Turtle Project Training
Join the Sedgwick County Zoo as they go into the field to survey native box turtles! The Kansas Box Turtle Project aims to engage the community in learning about their native box turtles through state wide surveys. Participants will work with staff in hands-on conservation science, which will increase volunteer's awareness and understanding of our native box turtles. This Project is open to guests of all ages. Be sure to visit their Facebook page to learn more about the short training required.
Great Plains Nature Center Photo Club
The photo club is open to anyone with any type of camera (including your cell phone)! Meetings are held every month on a Saturday morning and they start at 9am. The sessions are educational, positive, and helpful. They are for people with an interest in photography, regardless of skill level. Be sure to check their schedule as it may change!
What Do You Think?
And that's a wrap! We hope you're able to get outside and enjoy the festivities our city has to offer! Don't forget that we will be open all weekend long, including Sunday! We have great deals this Memorial Day Weekend and would be a perfect time to purchase a vehicle if you're in the market for one. As always, we are here for your automotive needs. If you have any questions or would like to provide your feedback, we can be reached at
(316) 652-2222.
You can also
contact us through our website.