Thank you for reading this week's newsletter, issue 44! We hope you had a great week and an even better weekend! Our team compiled a fun list of things to do this weekend in our community for you to enjoy. Don't forget that we are open and will be available for your automotive needs as well! Have a safe weekend and we'll see you next week!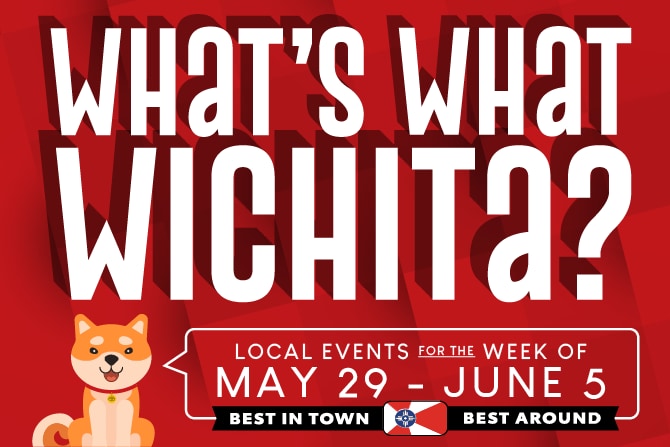 Things To Do This Weekend
Old Town Farm & Art Market
Come out and shop the Old Town Farm & Art Market this Saturday, May 30th at 8am! You can enjoy outstanding food, arts, and handmade products from producers you know and trust in Wichita's Downtown Market. The Plaza and Market have been renovated, so the total Market site now includes Farm & Art Plaza and Rock Island! Be sure to pay them a visit this Saturday!
Live Music Fridays at 6s Steakhouse
Who is ready for some live music? Patz is back and will be performing from 5:30pm-7:30pm on Friday, May 29th! You can watch him on 6s Steakhouse's Facebook page from the comfort of your own home or you can see him in person. Feel free to dine in or order curbside pickup & delivery. The patio and bar are also open if you would like to check those out at this fine dining steakhouse!
Revolution Lounge is Re-Opening
On Friday, May 29th, Revolution Lounge is proud to announce that they are reopening their doors! They will be open starting at 7pm and their entire team is excited to see all of you! Revolution Lounge will be running their usual drink specials, including $3 Corona's and Corona Premier's. They will also have a fun Hawaiian Breeze and Tropical Punches available for you to try. If this is one of your favorite hangout spots, then be sure to check them out this weekend!
Gnome Anniversary Week
Celebrate 5 years of gnome beers with The Hopping Gnome at home! They are celebrating their anniversary with their annual bingo game. They have new beers, new merch, and fun activities to do daily that you can do at home and share on social media or through text message! Be sure to celebrate with your gnomies today. Their bingo game ends on Sunday, May 31st. They have their schedule on their Facebook page.
Coffee Connection
Enjoy a cup of coffee at the Sedgwick County Zoo while learning about Zoo happenings and insight into the inner workings of the Zoo. Learn about conversation initiatives, training and enrichment, different taxa, and a whole lot more! Coffee will be available from your friends at The Spice Merchant. Coffee Connections are free to attend and feature a different speaker each month.
Kayak Rentals
The City of Wichita Park & Recreation is renting out kayaks this weekend from 10am-2pm! Take in the beautiful scenery of the Arkansas River as you paddle up and down the river in a kayak. Kayak rentals are available for $10 per hour on Saturdays and Sundays from 10am-2pm. Be sure to meet under Kellogg at the old Gander Mountain boat launch. Kayak rentals are also available daily at OJ Watson Park from 10am-7pm.
Cornhole For Veterans
Corn Hole For Veterans is hosting the 1st annual bags for veterans cornhole tournament! Come out and join the group on Saturday, May 30th at 11am. Bags will start flying no later than 12:30pm. There will be food, drink specials, and lots of fun to be had! The tourney will be $40 per team with half of the proceeds going to the veterans and the other half going to the payout. Their address is on their Facebook page! Be sure to come out and support the ones who have helped serve this great county!
Sangria in the Sun
Join Jenny Dawn Cellars for Sangria in the Sun this weekend! They are excited to open up the winery patio for customers to enjoy on Saturday and Sunday from noon-4pm. Please note this will be a modified service experience to stay within the guidelines of social distancing. To participate, please place your order online and select curbside pickup. Be sure to check out their Facebook page for pricing details!
Camp in a Box
The Exploration Place is hosting a Camp in a Box on Monday, June 1st starting at 9am! You will get an exciting kit bursting with a multitude of hands-on activities that will keep your child immersed in all things STEM. This camp this week will be dinosaur themed where you can have the ability to hatch dinosaur eggs, make amber, build a tar pit, identify real bones, and more! Check out their Facebook page today to learn more about their different themed camps they have every week.
Summer Food Program
The Wichita Public Schools Nutrition Services is providing free grab-and-go meals twice a week with breakfast and lunch items for any child ages 1-18. This Summer Food Program will begin on Monday, June 1st and will run through Friday, July 31st. You can view the nine locations the lunches are available at on their Facebook page. You can also view their weekly menu on
usd259.org/menu.
What Do You Think?
Our team at
Eddy's Toyota of Wichita
would love to hear from you! Would you like to see more in our newsletter? How are liking our weekly events? Please feel free to
contact us through our website
or by calling our staff at
(316) 652-2222.
Remember, we are also running a great special on our new AND used inventory. Enjoy 0% APR for 5 years when you purchase a vehicle this weekend! We hope to see you soon and that you enjoy our weekend with your friends and family.