Thank you for checking out this week's newsletter, issue 41! We're happy to have you and hope you enjoy the following activities our team discovered. Mother's Day is this weekend too and we found a few ideas you could do for Mom! Stay safe this weekend and we'll see you next week!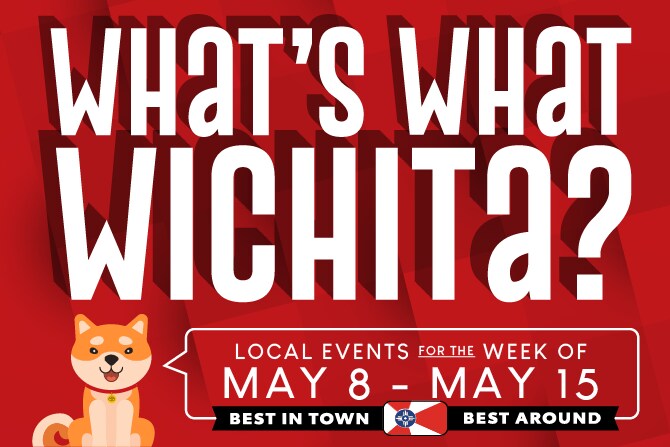 Things To Do This Weekend

Paranormal Eggsperience
Come have a Paranormal Eggsperience on Saturday, May 9th from 12pm-3pm! They are located at 905 West Douglas Avenue and will be available for curbside pickup. They have tasty entrees including burritos, English muffins, flatbread with your favorite toppings, and more! Visit their website today to place your order in advance and experience their paranormal eggsperience menu. They can also be reached at 316-210-4810.
21st & Ridge Farmers Market
Your favorite Farmers Market is taking place this Saturday, May 9th from 7am-12pm at 21st & Ridge! If you're needing ideas for Mother's Day, Kansas Grown will have local ingredients for you to make Mom brunch, beautiful locally grown flowers, tasty pastries, ingredients to create a home spa kit, gift basket fillers such as salsas & spices, and a whole lot more! Please note that from 7am-8am is reserved for the elderly & immune compromised shoppers. The vendors look forward to seeing you!
Mother's Day at Chicken N Pickle
Join Chicken N Pickle on Sunday, May 10th from 10am-8pm for Mother's Day! They will have tables available for reservation starting at 10am and will be available for 1 hour and 15 minutes only. You can have a maximum of 10 people in your party. Please know the staff will be sanitizing tables and the property between each reservation. You will also be able to enjoy pickle ball, shuffleboard, or bocce ball while you're out! Be sure to visit their Facebook page for details.
Live Music Friday at 6s Steakhouse
Enjoy live music at 6s Steakhouse on Friday, May 8th from 5:30pm - 7:30pm! The fine dining restaurant will be open for dine in and is still continuing their $20 family meals for two for curbside pickup and delivery. If you don't want to come in, then you're able to watch the live music performance on their Facebook page. They are featuring local artist, Patz and he's a fan favorite! Be sure to order online or make your reservations to dine in today.
Old Town Farm & Art Market
Enjoy Old Town's Farm & Art Market on Saturday, May 9th from 8am-1pm! You will have direct access to fresh, nutrient-rich foods, products, and relationships needed to strengthen communities! Please know that the Market's footprint has expanded - allowing for a safe shopping experience for vendors and customers. There will be plenty of room to spread out! Be sure to come out and enjoy the sunshine! You can learn more about their safety precautions on their website.
Sangria Showdown
Xclusive Events is hosting a Sangria Showdown at the Anchor Meat Market! On Friday, May 8th starting at 12pm, anyone who wants to compete for the coveted title Wichita's Sangria Champion is invited to come out! You don't have to be a professional bartender to participate. There are no requirements on how to make your Sangria, but the judges will know what your secret ingredient is! This showdown is to raise awareness and money for the Wichita Area Sexual Assault Center. Visit their Facebook page for details.
Spring Junkin Clean Out
Rustic Rakes & Plaster Paint Co is hosting a Spring Junkin Clean Out! Come out on Saturday, May 9th from 10am-5pm for some great Junkin Deals, located at 4057 N Woodlawn Ct. Everything is being moved of the back room and will be available in their parking lot to keep everyone safe and to honor the social distancing guidelines. Be sure to come out for some fun while getting a great deal!
Mother's Day Zoom & Bloom
Pinspiration is hosting a Mother's Day Zoom & Bloom on Sunday, May 10th from 1pm-2pm! You will receive all of the supplies you need to make your very own 12"x12" paper-flower wreath at the comfort of your own home! Learn techniques during their live video or watch the recording later on your own time. It will be a fun wreath-making party online for you and your Mom to enjoy! This is open to all skill levels, 8 years old and up. Check out their Facebook page today to order your kit.
Community Positivity Art Project
Join the Derby Arts Council at the Derby Public Library on Saturday, May 9th for a community art project! All individuals, businesses, churches, and any other organizations in Derby are invited to participate! Feel free to grab your chalk and make beautiful art on city sidewalks! No permit is needed; you will just need to remove your art by the end of day on May 31st. Once you're finished with your artwork, take a photo and upload it to their Facebook event page.
Build Your Own Brunch With Olive Tree Catering
Come out to Two Olives this Sunday, May 10th for Mother's Day! From 10am-2pm, you will have the opportunity to build your own brunch! To keep everyone safe, you will be able to circle what you want on a menu and their servers will return with your personalized plate. Relax with your Mom and let Olive Tree serve you! Visit their Facebook page today to see their menu and to reserve your table.
What Do You Think?
Have a fun and safe weekend as we experience re-openings around our city! We hope you have a wonderful time with your Mom this Mother's Day this weekend. Don't forget that we are still open and here for your automotive needs! Please give us a call at 316-652-2222 or
contact us through our website.
We would love to hear from you and always welcome your feedback!