It's almost the weekend! Do you have anything planned? If your calendar is still open and you're wanting to fill it, check out these 11 Wichita happenings. From baseball and food trucks to Kids Day and music, we have your weekend covered. Plus, we'll be giving back to teachers this Sunday, August 9th from 12pm-1pm at our dealership! We hope to see you there!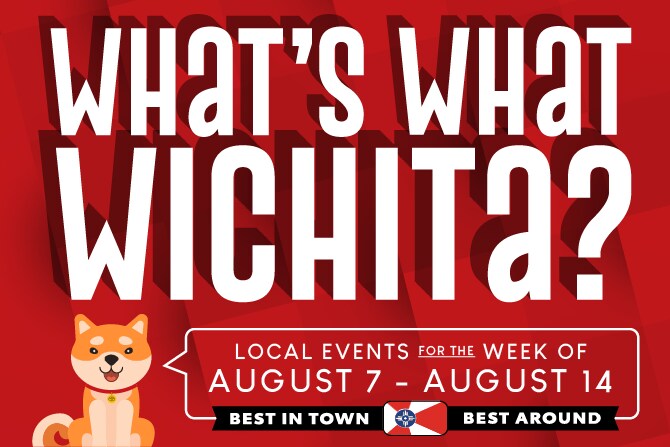 Things To Do This Weekend In Wichita, KS
Teacher Appreciation Event
Calling all teachers! Eddy's Toyota is excited to show their support this Sunday! From 12pm-1pm on August 9th, the Eddy's Toyota team will be giving away school supplies at their dealership in their service drive. Please note that teachers must show their badge to qualify. This is a one hour event (or while supplies last). Please help spread the word and share this event with your fellow teachers!
Lunch & Sun
Join 6s Steakhouse for your favorite lunch menu items, drink specials, and a wonderful performance by local artist, Patz! Their dining room and patio will be open from 11am-3pm every Sunday. Patz will be performing all of your favorites from 12pm-2pm. You can expect the best hospitality, food, and drinks when you dine at this fine dining restaurant.
Beauties and Beasts Chipotle Give Back Night
On Saturday, August 8th from 4pm-8pm, Beauties and Beasts is hosting Give Back Night at Chipotle at the Maple & Ridge location! Beauties and Beasts is a pet rescue group that is looking for your support in raising funds for the animals in their care. In order for them to receive credit, be sure to show the cashier the flyer found on their Facebook page or mention the fundraiser prior to paying.
Beaches & Blessings
Tune is to this virtual event to benefit the ministries of Catholic Charities on Friday, August 21st from 7pm-10pm. The evening will include a selection of premium designer purses for bid, along with raffles for a Louis Vuitton, exclusive Saint by Sarah Jane set and a relaxing Staycation, and a limited Cabana ticket for a trip or in-home, guided wine tasting. Host a house party for 12 with dinner delivered by Georges French Bistro or be on your own Isolation Island after picking up your meal for one at Georges. To learn more or purchase a ticket, visit CatholicCharitiesWichita.org/beaches-and-blessings.
Bradley Fair Outdoor Fitness Series
Join Optimistic Elephant and Limitless Yoga Studio at Bradley Fair for their outdoor fitness series! You can join them every Sunday at 11am around the Bradley Fair Fountain for a free, all-levels outdoor yoga class. They have beautiful views of the lake with plenty of space to keep 6 feet apart. Be sure to bring your own yoga mat and water bottle. Check out their Facebook page today for more details.
Kids Day at Kansas Grown!
It's Kids Day at Kansas Grown on Saturday, August 8th from 7am-12pm! Come out and bring your kiddo for a fun-filled morning! There will be goodies available around 8am (while supplies last) including donuts, cookies, coffee, and balloon animals made by Troubles & Birdie! Don't forget there will be food trucks and lunch available for purchase from The HotPI8, Want Bierocks, and Kona Ice.
Across The Pond
Come out to Stearman Field Bar & Grill on Saturday, August 8th from 7pm-11pm for some fun from the Across The Pond! They are bringing out their British Rock to perform at this fabulous venue. Please take note that there is no cover charge, there will be happy hour from 3pm-6pm, and they are featuring chicken fried steak for this occasion. Learn more on their Facebook page today.
Celebrate Wichita's 150th Birthday
Wichita's birthday is still being celebrated across town! Stop by the ICT Pop-Up Urban Park on Saturday, August 8th from 11am-2pm for some tasty lunch! Smokin Diner, Funky Monkey Munchies, and Brown Box Bakery will be on-site, ready to serve you! Each food truck will have a special menu item or giveaway. Check out each truck to see what specials they will be offering.
2nd Saturday Sell-A-Bration
Are you ready to get your shopping on? Come out to Generations Antiques & Artisans on Saturday, August 8th from 9am-7pm! If you want to shop outdoors, the outside marketplace will be open from 9am-2:30pm. There will also be a Cyber Sale going on for those who prefer to shop from the comfort of their home. There will be vendor demos, huge sales, food trucks, and more! Visit their Facebook page for details.
NBC World Series
Who is ready for some baseball? The 86th NBC World Series will be held this year for 8 exciting days! Two locations will be used: Wichita State University and Hutchinson, Kansas. Tickets are $10 and can be purchased through Eventbrite! The first game will be held on August 6th starting at 6pm. Visit their Facebook page today for ticket details.
Connect and Preserve Cat Day
Come join Tanganyika Wildlife Park on Saturday, August 8th from 9am-4pm for a fun-filled day! They will be celebrating all the amazing cat species for Connect And Preserve Cat Day and you're invited! Exclusive one-time only cat-themed activities will be available for you to enjoy, including: BTS tours, training demos, nursery feedings, scavenger hunts, and so much more! Check out their Facebook page to learn more.
What Do You Think?
Wow! There's a lot happening this weekend and we hope you're able to enjoy one or more of the festivities! Don't forget that we will also be open this Sunday, August 9th from 12pm-6pm for those who like to car shop. Plus, we'll be hosting our Teacher Appreciation Event from 12pm-1pm. If you have any questions or would like to share your feedback, be sure to reach out! You can
contact us through our website anytime
or by phone at
(316) 652-2222
.