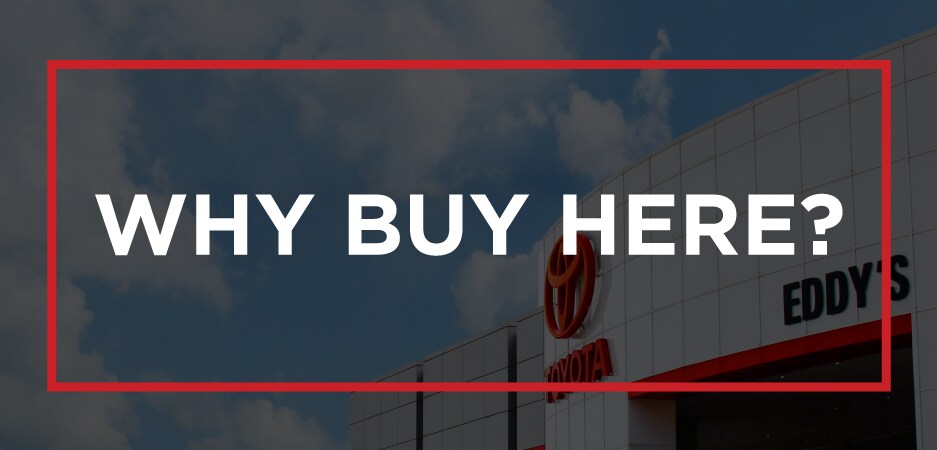 WHY BUY HERE?
Unfair Advantage for Our Customers 

Love It Or Leave It 72 Hour Exchange Policy
Don't love it? That's okay! We allow you to exchange for another vehicle or equal or greater value within 72 hours with no more than 200 additional miles.

24 Hour Test Drive At Home Program
Need more time to test drive your vehicle and explore all of its features (such as convenience and
safety features
)? Then check out our 24 Hour Test Drive at Home Program today. Insurance and previous driving history record restrictions may apply. 
Schedule your test drive delivery today.
Not only do we bring the test drive to You we deliver your purchase to you at home! No need to even visit the dealership!

1 Hour Or Less Buy & Drive
From the moment terms are agreed upon you'll be on the road in an hour or less! It's our guarantee!

Limited Lifetime Warranty
Applicable on all new & qualified pre-owned vehicles good anywhere in the USA or Canada even if you don't service your own vehicle with us covering engine, transmission, & trans-axle, and front & rear-wheel drive system. 
Learn more about our Limited Lifetime Warranty today.
Complimentary Maintenance
Car washes, vacuum, oil & filter changes are included with most purchases for up to 5 years! Be sure to check out our
ToyotaCare Service
as well! It features a no-cost maintenance plan and roadside assistance. 

Free Fluid Top Off's
Between service intervals, feel free to stop by for a complimentary fluid top-off.

135 Point Inspection Free For Life
Brakes, batteries, lights, and much more at absolutely at no cost to you.

Free Alignment Checks For Life
Our new state of the art diagnostic equipment allows us to quickly and easily provide a complimentary check to keep you headed down the straight and narrow. Visit our service department today and see
why you should service at Eddy's Toyota of Wichita.
Would you like to learn more about our dealership?  We would love to meet you in person and help you with your automotive needs! We are conveniently located west of Rock Road near the intersection of Rock Road and Towne East Mall Drive on the south side of Kellogg. If you would prefer to chat over the phone, we can do that too! We can be reached at (316) 652-2222.
Have A Question? We Have Answers!
* Indicates a required field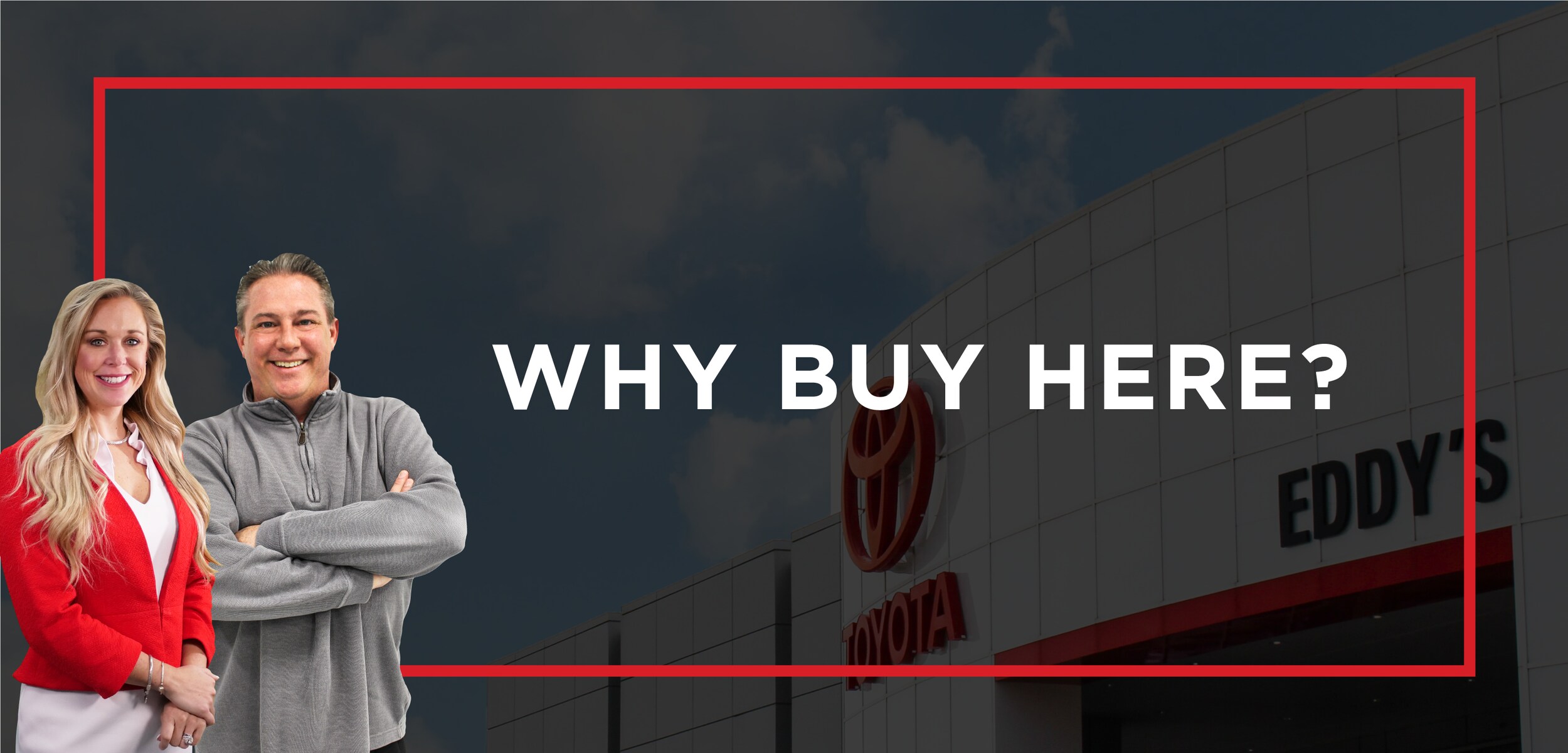 Why Buy a Toyota from Eddy's Toyota of Wichita?
If you seek a high-quality car from a dependable brand, then you can find it here at Eddy's Toyota of Wichita. Any dealership can sell you a high-priced ride you do not need. Still, at Eddy's Toyota of Wichita, we want to help you make an easy and pressure-free decision to join many of your neighbors in South Central Kansas among our family of customers. We have quality cars and a host of great services to make the car-buying or leasing process easy and convenient; many of these same services you might not find at our competitors in the Wichita, KS area.
Let us show you all the ways you can benefit from joining our family here at Eddy's Toyota of Wichita. Shoppers will find us less than a 20-minute drive outside of Derby.
"Love It or Leave It" 72-Hour Exchange Policy
While we aim to find customers the perfect ride for their needs, the car they drive off in might not match all of their specifications. If you are not completely satisfied with your purchase, you can return it and exchange the car for one of equal value within 72 hours or no more than 200 extra miles on the odometer, whichever comes first.
24-Hour At-Home Test Drive
If you do not have time to come to us, we'll bring your desired car out to you for a test drive. Within 24 hours of completing your deal online, you can schedule an at-home test drive to familiarize yourself with the new Toyota or used car you choose.
At-Home Delivery
Our at-home delivery program applies to test drives as well as final delivery. If you live in a nearby area like Park City, in South Central Kansas, we can deliver the car out to you. We'll also bring the necessary paperwork, so you can sign your deal and enjoy your new car without leaving home.
One Hour or Less Buy & Drive
We stand by efficiency and helpfulness at Eddy's Toyota of Wichita. While you're under no pressure to decide now, as soon as you are ready to move forward and finalize your deal, we will promise the car will be yours within an hour or less. Our buy and drive policy ensures you spend more time enjoying your new car and less time dealing with the hassle of paperwork.
Limited Lifetime Warranty
Another service you may not find at a competing dealership in the Wichita, KS area is our Limited Lifetime Warranty. This warranty covers the repair and replacement of parts such as the engine, transmission, transaxle, and drivetrain. Our Limited Lifetime Warranty covers all of our new Toyota models for the entire length of time you own the car. The warranty even applies to some qualified pre-owned models and can be redeemed anywhere in the US or Canada.
Complimentary Maintenance
Our dealership and Toyota provide customers with all sorts of helpful ways to keep their Toyota in great shape for as long as possible. Our Wichita, KS Toyota service center offers ToyotaCare services for up to two-years/25,000 miles on all new models and our complimentary maintenance for up to five years on most vehicle purchases. Complimentary maintenance covers oil changes for five years and free interior vacuuming and exterior car washes for life. ToyotaCare service includes basic service needs and roadside assistance.
Free Fluid Top-Off between Services
We'll change your oil and rotate your tires, fast and easy, but what happens if your transmission or coolant fluids are looking a bit low? Other technicians might ignore this issue, accidentally or on purpose, but our mechanics will top off your fluids before sending you on your way. We offer free fluid top-offs between service intervals whenever you stop by.
135-Point Inspection for Life
Even after a routine tire rotation, you still might want to know about any future maintenance needs for your new or used Toyota. We offer complimentary 135-point inspections, free for as long as you own your car. Our technicians will check out the most crucial systems of your car and let you know what may need fixing, immediately and down the road.
Alignment Changes for Life
If you find your car leaning excessively to one side or experiencing other balance issues, we can check to know for sure. Our Toyota-certified technicians provide free alignment checks for life, helping you correct any issues with your Toyota and its drivetrain. A misbalancing of alignment can lead to long-term fuel efficiency issues, uneven tire wear, and a great many other service needs.
Visit Eddy's Toyota of Wichita Today
Whether financing or leasing, your next new Toyota or used car represents an investment in your future. You deserve to have a trusted ally on your side, helping you maintain your investment and shop in a convenient and pressure-free environment. Learn more about what we stand for here at Eddy's Toyota of Wichita when you test drive a new Toyota or used car here at 7333 E Kellogg Dr in Wichita, KS. We look forward to meeting you!