Happy Independence Day, Wichita! We can't wait for you to celebrate the 4th of July with your friends and family! There are several celebrations happening in our community where you can watch fireworks with your loved ones. Be sure to take a look at our list and mark your calendars! We wish you a fun and safe holiday weekend.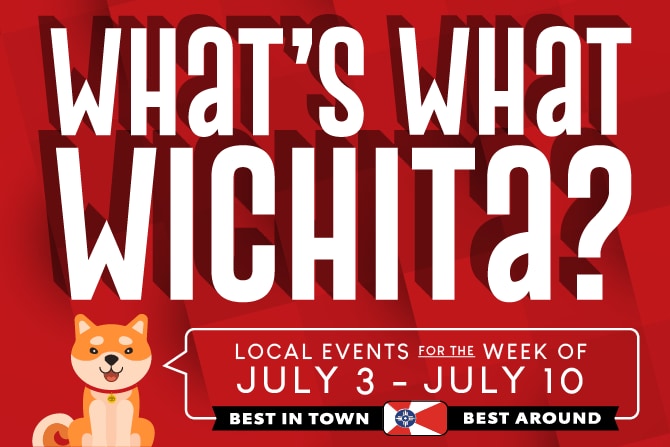 Things To Do This Weekend
Stars and Stripes 5K and Lil' Kids Run
The seventh annual Stars & Stripes 5K will take place at Cessna Stadium in beautiful Wichita, KS. The event features a fast and flat course, chip timing, free photos, great event shirt, and finisher medals for all participants! A portion of the proceeds benefits Shock Fitness, a community exercise program for the Wichita, KS area. Be sure to visit their Facebook page to learn more about ticket prices and how to sign up! The race is hosted by the Wichita Running Company and they would love to see you there!
4th of July Parade & Ice Cream Social
Visit Mulvane, KS from 12pm-2pm on July 4th for a fun and festive parade! The parade will begin at noon where there will be a contest for the best themed float and bike! Directly following the parade will be free ice cream available to the public in Cobb Park. Make sure to mark your calendars and bring the whole family for this exciting outing! The Mulvane Chamber of Commerce looks forward to celebrating the spirit that makes Mulvane your hometown!
2nd Annual 4th of July Party
Rock Island Live is excited to announce their 2nd Annual 4th of July Party and you're invited! Doors will open at 9am and the party will be started off by Unique Mix Promotions and Soufwest Entertainment! UMBrand, limited edition and Soufwest Merch will be available. This looks like a fun time for those looking for a party to attend this Saturday night!
40th for the 4th
Join the City of Bel Aire for their 4th of July celebration and 40th anniversary! Come out and enjoy a picnic on the lawn, corn hole tournament games, music, food, snow-cones, and fireworks! The fireworks show begins around 9:30pm at City Hall. Viewing areas include Northeast Magnet High School parking lot, the pool, and City Hall. Be sure to bring blankets and chairs to enjoy the show! Please call the Bel Aire Recreation Center for any questions.
Goddard Fireworks Show
The Goddard Fireworks Show will be held on Saturday, July 4th at the Genesis Sports Complex! The show will begin at 10pm at dark. The all aerial show will be launched from the south end of the Genesis Sports Complex. Parking may be limited, but the show is designed to be viewed from most anywhere in Goddard. The show is sponsored by the Goddard Lions Club! Come out and watch the fireworks!
Coasters Independence Day Parade
Come out to Riggs Park in Haysville, KS for their Coasters Independence Day Parade! The parade will begin at 8am on 4th of July. To participate in the parade, meet on the West side of Riggs park on Park Drive Street at 7am. Be sure to decorate yourself and your bike in a patriotic theme! If you can't make the 7am meetup time, you're welcome to join everyone at Haysville Middle School before the parade begins.
The Secret Reserve: 4th of July Concert & Art Fair
The Enigma Club & Lounge is going in again with another secret reserve! The event is a private party and tickets are $15 per person or $20 at the door. You can expect fun lights & lasers, a new ceiling projector and screen, drink specials, an art market right outside Enigma in the courtyard, and more! All proceeds will be benefiting the DJ's. Be sure to visit their page for more information on the artists and musicians!
Derby 4th of July Celebration
Come out to Derby, KS for a fun-filled day on July 4th! They will have an Independence Day Parade starting at 10am, a Historical Museum that will be open from 10am-2pm, and a fireworks show at High Park starting at 9:30pm. Be sure to arrive early to view the fireworks as parking capacity will be limited. You are welcome to bring a blanket, lawn chair, and a picnic dinner!
Join 6s Steakhouse for 4th of July
Do you like fine dining? Then make your way over to 6s Steakhouse on the west side where you can expect the best hospitality, food, and wine in town! For 4th of July weekend, they will have live music on Friday night from 5:30pm-7:30pm, and a fireworks viewing on Saturday on their patio. Enjoy a tasty dinner on their patio where you can watch the fireworks overlooking the lake! If you can't make it Friday or Saturday night, then don't worry because they also serve lunch on Sundays from 11am-3pm.
What Do You Think?
And that's a wrap! There's a lot of ways to celebrate the 4th of July and we hope you enjoy one of them! There are multiple firework shows in our city and surrounding areas and we wish everyone a safe and fun-filled day. If you have any questions, please don't hesitate to
contact us through our website
or by giving us a call at
(316) 652-2222
. We will also be running great specials this 4th of July weekend so if you're in need of a car, then now is the perfect time to buy one!