Check out this week's newsletter, issue 50! We have your weekend covered with fun shopping opportunities, a car show, live music, great food, and more! Take a look at our list of events happening in our community this weekend and have a fun and safe time off! Don't forget, we are also here for your automotive needs anytime you're in need of a routine maintenance, a car repair, a new vehicle.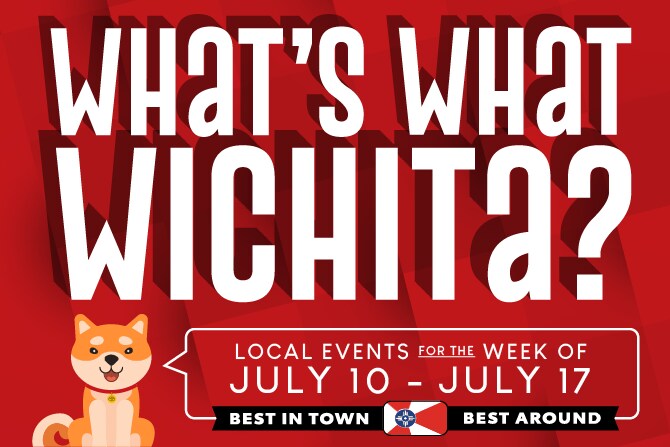 Things To Do This Weekend
Old Town Farm & Art Market
Don't miss the weekly Farm & Art Market in Old Town! This event will take place every Saturday until October 31st. This is your chance to shop for outstanding food, arts, and handmade products from producers you know and trust! Be sure to come out and shop their growing market! The Plaza has been renovated and it's a must see!
26th Annual Car Show & Street Party
Check out one of the largest car shows in Kansas this weekend! Approximately 2 miles of streets in downtown Wichita will be blocked off on Saturday, July 11th from 4pm to midnight! There will be bands, food trucks, vendors, and a wide array of cars. You can also expect a Model Car Contest and a Midnight Cruise. The Automobilia Moonlight Car Show & Street Party is not an event you want to miss!
Lunch & Sun at 6s Steakhouse
Join 6s Steakhouse this Sunday from 11am-3pm for live music, drink specials, and your favorite lunch menu items! Patz will be performing beautiful acoustics from 12pm-2pm. The patio will also be available if you want to enjoy the sunshine while receiving the best hospitality. Seats are limited, so be sure to call and make reservations for your party.
Brunch, Bingo, and Beer
Chicken N Pickle is hosting Brunch, Bingo, and Beer on Sunday, July 12th from 10am-2pm! They have this fun event available every Sunday for the public. Come out and enjoy a yummy brunch buffet, beer specials from the Wichita Brewing Co., and bingo! The buffet is served from 10am-2pm and bingo is from 11am-1pm. There will also be a-la-carte brunch options for you to choose from.
The Workroom's 2nd Saturday Artisan Market
After being cancelled in April, May, and June, the Workrooms's 2nd Saturday Artisan Market is excited to return on July 11th! They are turning 7 years old and invite you to come out and celebrate from 10am-4pm! Visit their Facebook page to learn more about their next season kickoff. They will be posting more details on deals, music line up, and more! If you're an artist or a food vendor, they are also accepting applications.
Hometown Market
Join the Haysville Historic District every Saturday in July, August, and September from 8am-12pm! July 11th is a Flea Market day where there will not only be regular vendors, but will also be open to flea marketers, shabby chic'ers, and garage sellers. The cost of the Flea Market booth space is only $25 for the entire season! Come out and shop or sell! Contact information for the Hometown Market can be found on their Facebook page.
Dream Catcher Class
Would you like to learn how to make your very own Dream Catcher? If so, the Mid-American All-Indian Museum is hosting a Dream Catcher class on Saturday, July 11th from 10am-12pm! All supplies and a visit to the museum are included in the admission fee. It's $25 per person and only $20 for members. Purchase your ticket today as their class size is limited.
Second Sunday Slow Roll + Stroll
Bike Walk Wichita is ready to celebrate the newly installed Mt. Vernon Bike Lanes and sidewalk improvements! Join the bike group for a leisurely bike ride and walk in Cessna Park along Mt. Vernon between Woodlawn and Oliver. All ages and abilities are welcome. They will gather at the Cessna Park parking lot off Mt Vernon, just west of Woodlawn. Don't forget to bring your mask, helmet, and water to the meetup!
Whiskey River Band
The Wichita Union Stockyards is back open and they are featuring the Whiskey River Band on Saturday, July 11 from 9pm-12am! If you have never been, it's the country entertainment venue we have all been hoping for! The entrance has swinging saloon door that open up to a big post-and-beam barn, and a 50' x 50' Southern Texas pecan dance floor! This is a fantastic facility that must be explored in person! Doors open at 7:30pm and Dance starts at 9pm. Visit their Facebook page today to learn more.
Camp in a Box
Unpack the science! There's still time to purchase your camp box from the Exploration Place. There are 2 themed sessions per week for you to choose from, which include the fun camp kit, virtual social time with other campers, and a special lunchtime guest who will share expertise about the camp topic. Once you sign up for one, you can either pick up at the Exploration Place and have it delivered right to your doorstep. Check out their Facebook page today for registration details.
What Do You Think?
How did you enjoy this week's newsletter? Are these events something you and your family would like to check out? Would you like to see something different featured on our blog? Please don't hesitate to share your feedback with us! If you enjoyed an activity that you learned about from us, then we want to hear about it. You can
contact us through our website anytime
or by giving us a call at
(316) 652-2222
.