View this week's newsletter, issue 51! We found a great deal of events happening in our area and want to share them all with you! From live music and tasty food options to a funny dinner theater and a tea tasting, we have your weekend covered! Check out what's happening and please let us know if you have any questions.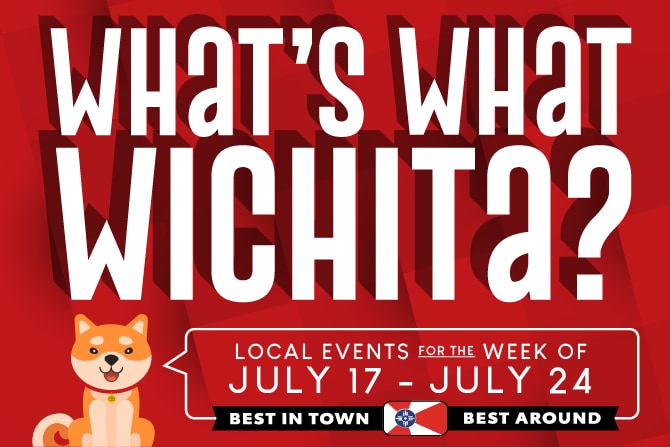 Things To Do This Weekend
Lunch and Sun
Join 6s Steakhouse for your favorite lunch menu items, drink specials, and a stellar performance by local artist, Patz! Their dining room and patio will be open from 11am-3pm every Sunday and Patz will be performing from 12pm-2pm. You can expect the best hospitality, food, and drinks when dine in at this beautiful steakhouse. Feel free to make reservations on their website to secure your table!
Yoga on the Lawn
Ready to get your stretch on? Experience an all-levels flow class in the Barry and Paula Downing Amphitheater at the Wichita Art Museum on Saturday, July 18th from 9am-10am! You will be able to enjoy gorgeous views of the Art Garden during the yoga class, taught by Kelsea Wright of Limitless Yoga Studio. Please note that social distancing will be in place for this outdoor activity with a maximum of 90 participants.
Paddle-Pa-Looza!
Come join the Bodyworx Physical Therapy & Concussion Center for a family friendly event! On Sunday, from 5pm-7pm, choose from a stand up paddle board, kayak, or tandem kayak at Santa Fe Lake! This is a perfect opportunity to learn how to stand up paddleboard in a safe environment. The cost is only $30 per person and includes paddle board lessons, 2 hour rental, a life jacket, and park entrance fee!
Wichita's 150th Birthday Brunch
Two Olives is celebrating Wichita's 150th birthday early on Sunday, July 19th from 10am-2pm! Come out and enjoy a special brunch celebration with Wichita, Kansas themed menu items including breakfast bierocks, sunflower cookies, apple pie, prime rib, buffalo wings, and a whole lot more! Plus enjoy their new mimosa flights! Visit their Facebook page today for reservation details.
July 19th Outdoor Market
Campbell's Corner Store is hosting an outdoor market on Sunday, July 19th from 10am-4pm! You can expect the parking lot to be filled with vendors, crafters, and businesses selling their goods and services! Shop local and support small businesses this weekend! Don't forget to also stop into Wichita's newest thrift store, Campbell's Corner Store located on South Seneca.
Funnel Cakes for the Food Bank
Are you missing fair & festival foods like funnel cakes and cotton candy? Well here's your chance to get your funnel cake, cotton candy, and soft serve ice cream fix! Come out to the Westway Shopping Center Parking Lot this Friday and Saturday from 6pm-9pm for your favorite festival foods. $2 from every funnel cake sold will be donated to the Kansas Food Bank.
Saving Pirate Ryan
Mosley Street Melodrama is hosting another funny dinner theater! Invite your friends out this weekend to attend a show about pirates. If you are a grog drinking scalawag who loves a buccaneering adventure, then "Saving Pirate Ryan" is the show for you! The show will feature Tara Clary, Steve Hitchcock, JR Hurst, John Keckeisen, Briley Meek, and Megan Parsley. Visit their Facebook page today for ticket details.
Hometown Market
Join the Haysville Historic District each Saturday in July, August, and September from 8am-12pm for their Hometown Market! There will be a lot of vendors available for you to shop from! You are also welcome to sell your goods on Flea Market Days! The booth space is only $25 for the season. Be sure to check them out and see what's in store!
Taste This: Tea Tasting & Roses
Botanica is hosting a tea tasting this weekend at 9am! A tea tasting is a great way to learn more about fine teas. Botanica is proud to team up with their good friends at Spice Merchant for a tea tasting experience. Come out and enjoy a tasting of 2-3 floral teas followed by a stroll in their beautiful rose garden. Visit their Facebook page today for pre-registration details (which is required).
What Do You Think?
Wow! Who knew of all the things happening in Wichita, KS and the surrounding areas? We hope you find joy in one or more of the above activities that our team discovered. We are proud to be your go-to dealership for anything automotive, but we're also happy to be your resource for fun community events that you can enjoy with your friends and family. Please let us know if you have any questions. If you would like to share your feedback (which we hope you do), you may
contact us through our website
anytime or by phone at
(316) 652-2222
. Have a fun and safe weekend, Wichita!