It's officially Summer, Wichita! From outdoor activities for your little ones and a variety of shopping opportunities to bowling and an art showing, we have your weekend covered! We greatly appreciate you checking in & reading this week's newsletter, issue 48! Have a great and safe weekend and we'll see you next week!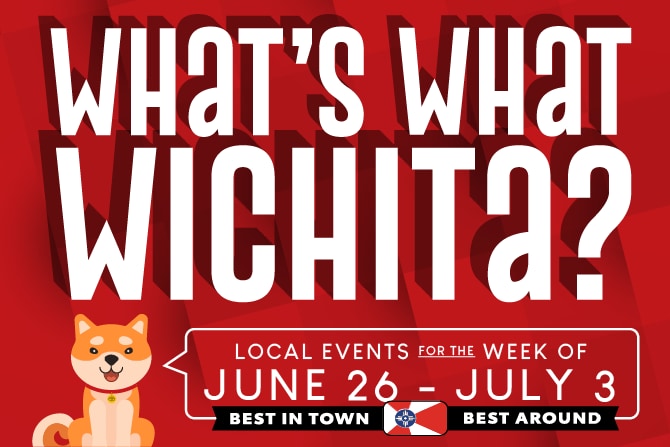 Things To Do This Weekend
Camp in a Box
The Exploration Place has taken the best of both worlds! Have your little one enjoy dynamic hands-on virtual camps! You will get an exciting kit bursting with a multitude of hands-on activities that will keep your child immersed in all things STEM. Visit their Facebook page to check out their different themed sessions! These science kits are great for ages 6 years and up. You have the option to pick up your box or have it shipped right to your doorstep.
Taste This: Tea Tasting & Roses
Join Botanica for their tea tasting & roses! Botanica has teamed up with their good friends at the Spice Merchant for a tea tasting experience. Come out and enjoy a tasting for 2-3 floral teas including a black tea with rose petal. After the tasting event, take a stroll in their rose garden. Pre-registration is required as spots are limited. It is asked that you scheduled at least one week in advance. Visit their Facebook page for more details.
Ladies Bowl Free Fright Night Cosmic
Northrock Lanes is hosting a free Ladies Night every Friday night until October! Ladies can bowl for free from 10pm to 1am during cosmic bowling on Friday nights all summer long. Grab your friends, family, and your bowling shoes! It's a great opportunity to spend time with your friends while picking up spares and splits!
Free Summer Meals
Derby Public Schools is providing free pre-packaged meals for any child ages 1-18 now through July 31st! Each child will receive a breakfast and lunch in the same bag at each visit. There are no income requirements, address stipulations or registration. Pre-packaged meals will be available through curbside pickup. Be sure to head over to their Facebook page for dates, times, and pickup locations.
Summer Kids Club 2020
Funtastics USA of Derby is hosting their Summer Kids Club and you're invited! This organization is here to provide children of all ages a first-class facility with over 12,000 square ft. They are the largest indoor play and gymnastics facility in the state of Kansas! Come and experience with your child all they have to offer. Visit their website today for more information on how to participate in their kids' club.
Old Town Farm & Art Market
Visit Wichita's Downtown Market since 1991! Come out to Old Town this Saturday at 8am for outstanding food, arts, and handmade products from producers you know and trust. This is a weekly event and it's encouraged to support your local vendors! The Plaza and the Market have been renovated, so it's a must see as it has grown in size. If you're ready to shop for local products, then this is the place to be.
Wichita Flea Market
The Kansas Star Casino Arena is hosting your favorite Wichita Flea Market! Come walk the aisles and peruse through the 200 plus booths that include antiques, crafts, vintage items, collectibles, reclaimed items, comics, jewelry, toys, and so much more! The flea market is operated by a local Wichita family. Please visit their Facebook page today to learn about admission prices and how to rent your own table if you would like to be a vendor.
Grand Opening Wichita Pizza Ranch
Stop by the Pizza Ranch to enjoy their food and FunZone arcade! They are having their Grand Opening on Monday, June 29th from 11am-9pm. Make sure to "LIKE" their Facebook page for updates, deals, and giveaways! They are located at 2121 N. Tyler Rd., Wichita, KS 67212.
Take Your Dog to Work Day
Are you working from home? How about taking your dog to Chicken N Pickle? They are having a day dedicated to bringing your dog to work with you! Come out to Chicken N Pickle on Friday, June 26th from 11am-5pm with your pup! They will have WiFi, grooming, and Cosmic Pet! Work from their establishment with your best friend by your side.
June Final Friday at Garvey Center
Garvey Center is so excited to have Final Friday back on June 26th! This will be an indoor and outdoor event. There will be amazing work done by artists inside and don't forget to check outdoors where you will find a gorgeous new piece from local Craig Campbell Sculpture. There will also be beer and hot dogs available for purchase! There will also be a scavenger hunt for you to partake in! Visit their Facebook page today to learn more.
What Do You Think?
We hope your weekend is filled with fun memories spent with your loved ones! There's a lot of fun activities taking place in our community and we're happy to be your go-to resource for community events. Please know that we're also proud to be your go-to resource for anything car related! If you need a new vehicle or would like to have your car repaired, we're here to help. Have a fun and safe weekend! If you would like to share your feedback or have any questions, please don't hesitate to
contact us through our website
or give us a call at
(316) 652-2222
.