There is still no major change in the 2021 Toyota 4Runner, but there are some great updates that make this impressive SUV even more capable. Toyota now offers a new Trail Special Edition that allows you to venture deeper off-road. In the 2021 4Runner, Toyota focused on creating a car for adventure, but still added style to make it stand out.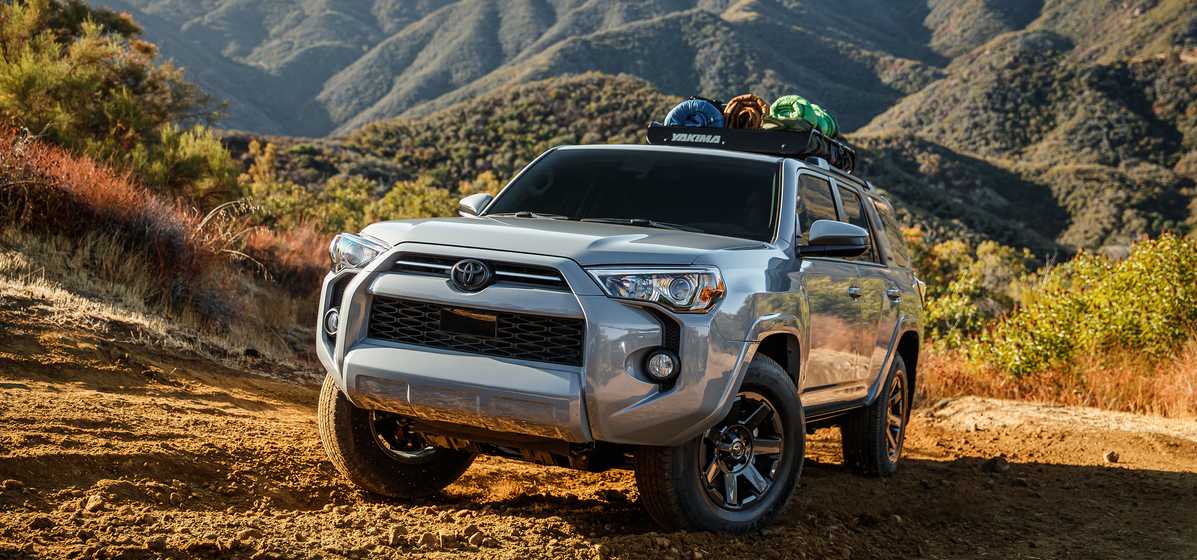 How's the New Trail Special Edition?
The Trail Special Edition comes as a two- or four-wheel drive. Toyota offers it in either Army Green or Cement colors that show the ruggedness of the SUV. This is an edition for those who want more off-road driving capabilities, thanks to its TRD off-road wheels and the Yakima LoadWarrior cargo basket on the roof. To further make it ideal for adventure, this trim comes with a 40-quart cooler that matches the car's exterior color. Other features are all-season floor mats, tan stitching, and black upholstery. Only 4,000 models of this new edition will be available as Toyota plans to limit production.
Performance
The 4Runner is a performance SUV designed for driving on rugged terrain. It sports a 4.0L V6 engine that delivers 270 horsepower with 278 pound-feet of torque. Toyota pairs the engine with a five-speed automatic transmission. The five-speed automatic allows the SUV to venture off-road with ease.
The intelligent four-wheel drive system further enhances the off-road driving capabilities. While driving on rough terrain, one wheel might be hanging in the air, but the 4Runner still pulls through to handle the terrain.
The TRD Off-Road Package offers a trail cruise control that regulates the brakes and the throttle to control the car better. There is also a rear locker for better handling.
the 2021 Toyota 4Runner offers EPA rates of 16 mpg for city driving, 19 mpg for highway, and 17 mpg for combined driving. The mileage might reduce further when you venture off-road, but the car doesn't wane in performance.
Interior Space
You can shop the two-row or the optional three-row 4Runner, depending on the space you need. It seats five or seven people, depending on the option you choose. It has a flexible cargo area with large and deep spaces to carry your cargo. Some two-row models have a pull-out cargo deck that makes it easy for you to load cargo. The pull-out cargo holder comes as a tailgate for seating. You can fold the second-row seats if you need more cargo space.
Interior Features (Tech & Safety Amenities)
The 4Runner comes with an 8.0-inch touchscreen infotainment system. The interface comes with physical buttons and knobs that make it easy for you to control the entertainment system. Its infotainment system, known as Entune, comes standard with Apple CarPlay and Android Auto. You can also subscribe to the Wi-Fi Hotspot and enjoy much more from your Toyota. There is a built-in navigation system and a 15-speaker audio system.
For an SUV that has not seen major updates, these are advanced tech features for driving in Wichita, KS, or off the road.
The NHTSA rated the 2020 4Runner 4 stars out of a possible 5. NHTSA is yet to test the 2021 model, but we know it will come with a host of driver-assistance and safety features including:
Standard forward collision alert
Automated emergency braking
Lane departure warning
Lane keep assist
Adaptive cruise control
Drive the 2021 Toyota 4Runner in Wichita, KS Today!
If you need an off-road SUV, the 2021 Toyota 4Runner is a great option for you. You can test drive this SUV today at Eddy's Toyota Scion. You can reach out to us online or call us today to schedule a test-drive. Browse our inventory to learn more.