There is a lot to love in the all-new 2021 Toyota Supra. 2021 marks year two after its resurrection for this fantastic luxury sports car. In its sophomore year, the 2021 Supra comes with several changes, including beefed-up powertrains, which is what most people love about the Supra. The Supra is only available as a couple, but it offers a nicely finished interior with excellent safety and entertainment features.
The all-new 2021 Supra is a powerful sports car full of character and personality that drivers in Wichita will enjoy. You will love driving the 2021 Supra on curvy since it offers agile handling, responsive steering, and a punchy acceleration that makes driving it on such roads a blast.  There are mainly two variants of the car, the GR Supra 2.0 and the GR Supra 3.0. It is set to debut in our dealership in Wichita soon.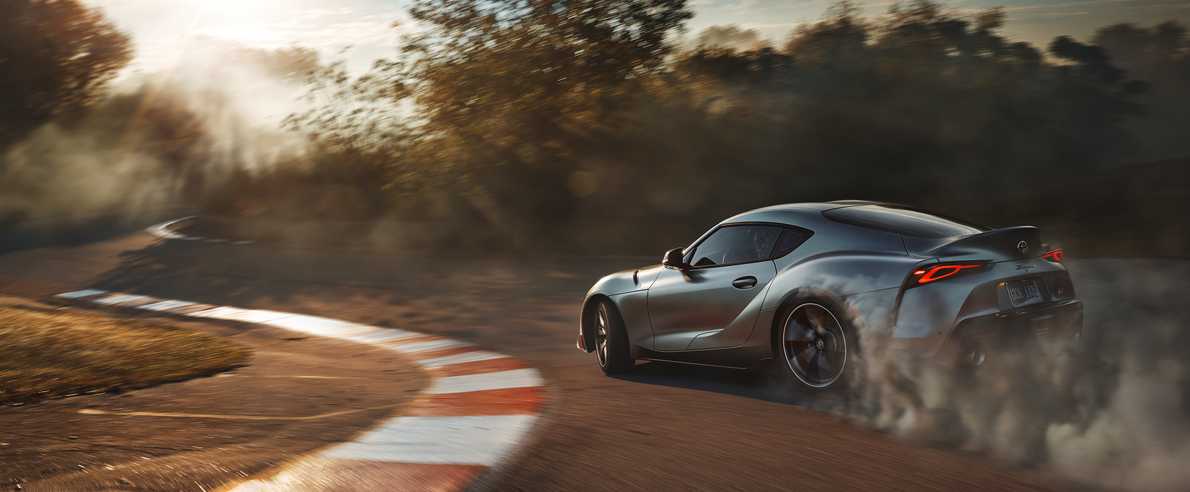 Performance
As aforementioned, the 2021 Supra comes mainly in two variants: the Supra 2.0 and 3.0. Consequently, there are only two engine options. However, the available engines offer excellent performance, which shows how Toyota's gamble of providing only two engine options paid off. You have the option of choosing between the following:
A turbocharged 2.0-liter inline-four engine that produces 255 horsepower and 295 pound-feet of torque.
A turbocharged 3.0-liter inline-six engine that delivers a massive 382 horsepower and 368 pound-feet of torque.
The first engine comes with the base model Supra 2.0 while the other comes with the other trims the 3.0, 3.0 Premium, and the A91 Edition with the last one being an exclusive model. The car is fast, with the 2.0 model achieving 0-60 in five seconds and the 3.0 model managing the run in under four seconds, according to Toyota. These engines will be offered with a smooth-shifting eight-speed automatic transmission and RWD.
Interior Features
With the 2021 Supra, you get the interior of a genuine sports car. The car is a two-seater coupe with enough space for two adults of all sizes. There is plenty of leather to go around in the stylish and well-trimmed interior. The controls feel great, and you get an excellent driving position in this car. Moreover, there is now the new standard 8.8-inch infotainment system for all your entertainment needs around Wichita.
Seating and Cabin Space
The 2021 Supra retains the cabin from the previous model with only minor changes. The car still sits two with enough legroom and headroom. You would expect limited headroom with other similar coupes but not the Supra, thanks to its double-bubble roofline. All other models apart from the base include electronically adjustable seats with the base having lighter manual seat adjustment controls.
Storage
Two-seater sports cars are not built for their storage. However, the Supra's 10.2 cubic foot trunk provides enough space to accommodate your luggage, groceries, and just about anything in between. The car offers an easily accessible trunk through a hatchback-style liftgate, which makes it easy to load and unload.
Technology
To keep you entertained and relaxed while on the roads of [GEO], you'll have many great features to keep you connected around Wichita and beyond. The 8.8-inch touchscreen infotainment system offers easy smartphone integration with both Apple CarPlay and Android Auto available on every trim level. You can opt for the standard four speakers or upgrade to the luxurious 12-speaker JBL audio system.
You can stay comfortable inside the 2021 Toyota Supra thanks to the automatic dual-zone climate control, rain-sensing wipers, and electronically-adjustable seats available on higher trim levels.
Safety and Driver-Assistance Features
The 2021 Supra comes with these and more features (depending on trim) to keep you safe and confident on the roads of Wichita, KS. You'll enjoy features like:
Pedestrian detection
Pre-collision alerts and emergency braking
Adaptive cruise control
Lane-departure alert
Automatic high beams
Rearview camera
Blind-spot monitoring
Visit Eddy's Toyota to Learn More
As you can see, since its reintroduction, the Toyota Supra has made several changes, which will make driving it around Wichita a pleasure. If you are looking to test drive it as soon as it debuts, we encourage you to set up an appointment here at Eddy's Toyota. We look forward to working with you soon!